Lumileds Expands Matrix Platform with High Efficacy Module for Outdoor Applications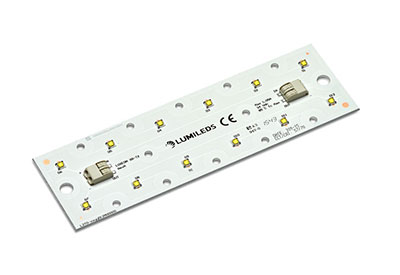 Feb 22 2016
Lumileds' new Luxeon XR-TX module incorporates 12 Luxeon TX high-efficacy LEDs to produce 3300 lumens and 140 lm/W at nominal drive conditions.* In a convenient rigid form factor, the modules are designed to be readily combined with third party lens plates and drivers to rapidly design and bring to market LED streetlights, tunnel lights and high/low bay fixtures. The Matrix Platform products eliminate sourcing LEDs, components, and connectors, and can reduce the design efforts behind luminaire development.
A further advantage to lighting manufacturers lies in the assembly process developed and used by Lumileds, which is a pick-and-place system. Customers can be assured of very tight control of flux, forward voltage and colour specifications at the board level, compared to designing with individual LEDs, where accounting for variability is a greater challenge. The Luxeon XR-TX modules are available in a variety of colour temperatures ideal for streetlight and high/low bay applications: 4000K, 5000K and 5700K with a minimum CRI of 70. Each module features a metal-core PCB for best-in-class thermal conduction, screw holes for ease of mounting to heat sinks, and convenient poke-in connectors for electrical inputs. Multiple LUXEON XR-TX modules (up to seven) may be daisy chained to achieve an assortment of system configurations and necessary flux levels.
This new module is part of the Lumileds Matrix Platform of infinitely configurable LED boards, linear flex and modules featuring LUXEON LEDs. The Matrix Platform comes in both off-the-shelf and built-to-spec options, offering a virtually limitless range of solutions for any application.
Find out more: www.lumileds.com/LUXEONXRTX.
*At nominal drive current of 700mA, 85°C board temperature, and 4000K/70CRI colour. Boards can be driven at up to 1.05 A.
>> Source ALL of your Canadian Electrical products in the Goldbook Directory <<