Luminis Expands Outdoor LED Lighting Series with New Eclipse Mini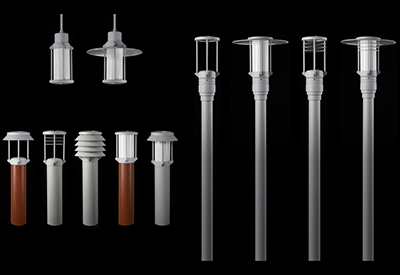 Jan 11 2016
Luminis' new Eclipse Mini collection features a range of bollards, pendants, post-top, and wall mount luminaires designed for exterior architectural and area lighting applications.
The extensive Eclipse Mini range of products eliminates light trespass. The products feature advanced optics with full cut-off, and have added controls that reduce backlight, uplight and glare, offering a U=0 (uplight zero) under the BUG classification system.
A complement to the existing range of 8" Eclipse products, the Mini collection similarly features various mounting, pole and arm choices, and different top cover, strut and louver options. Combining functionality with a classically decorative design and smaller 6" footprint, the Eclipse family is ideal for parks and pedestrian areas.
The Eclipse Mini collection is offered with a standard 4000K CCT, 3000K or 3500K alternatives, all with 80 CRI. Eclipse products feature asymmetric distribution in certain distribution types and full cut off is available in every model.
Features include:
• 6" diameter base
• full cut-off. U=0 (BUG rating)
• post-top, wall mount, bollard and pendant mount options
• 4000K standard color temperature with 3000K and 3500K options
• 80 CRI
• 139,000 hours (L70B50)
• 700 to 4700 delivered lumens depending upon chosen model, distribution type and input
• high impact white translucent UV stabilized acrylic diffuser included with some models
• integral LED heat dissipating pad in top cover
• multiple standard finish colors, with the option of custom color finishes
• 347V version available
Find out more: http://www.luminis.com/.
>> Source ALL of your Canadian Electrical products in the Goldbook Directory <<
Other Products:
Luminis Compact Syrios Square Cube