Standard Edge-Lit LED Panels Generation 3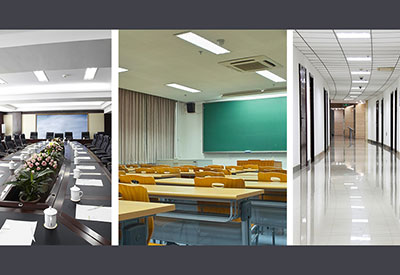 Standard's new range of edge-lit LED flat panels for office and commercial lighting provides an optimal alternative to traditional fluorescent luminaires. The series will appeal to lighting designers, specifiers or building management companies seeking aesthetic pleasure as well as energy savings.
Features and benefits include:
• High quality. Each panel is designed to output a perfectly even, bright, edge-to-edge illumination across the surface of the panel. Each luminaire features a sleek low profile aluminum housing with an integrated edge-lit optical frosted lens for even light distribution.
• Low glow. These LED Panels provide totally uniform, smooth and visually comfortable lighting with low glare and shadows.
• Energy saving. Valued also for curbing energy costs, virtually eliminating maintenance, easier installation and invigorating otherwise uninspired areas with crisp, comfortable light.
• Ultra-thin profile. Standard's LED panel's ultra-thin profile (0.5 inch/15 mm) maximizes ceiling space and can be installed or suited easily in very shallow ceiling plenums.
• Easy installation. Integrated driver reduces installation complexity and allows quicker installation than traditional troffers.
Find out more: http://www.standardpro.com/en/g3-led-panels
>> Source ALL of your Canadian Electrical products in the Goldbook Directory <<