Smith + Andersen Toronto 2022 IES Award Winning Projects
December 5, 2022
This year, the Smith + Andersen Lighting Team received the Toronto IES 2022 Illumination Section Award and the IESNA Illumination Award of Merit for two projects: Grasett Park (Exterior Lighting Design), and St Paul's Church (Interior Lighting Design). Each of these Toronto-based projects demonstrate a level of design excellence expected by the Illuminating Engineering Society.  Read more about the lighting design on these award-winning projects below.
Grasett Park
Architect: Denegri Bessai Studio Architecture & Design
A story brought to light.
Grasett Park's design was created to celebrate Toronto's response to Irish migrants fleeing the 1847 famine. From afar, it is clear that every panel of glass supports each other structurally, as they come together to create one cohesive piece. Up close, the panels reveal intricately illuminated etchings of cheesecloth, symbolic of the material that was used to make tent-like fever sheds and provide refuge for the sick during the famine.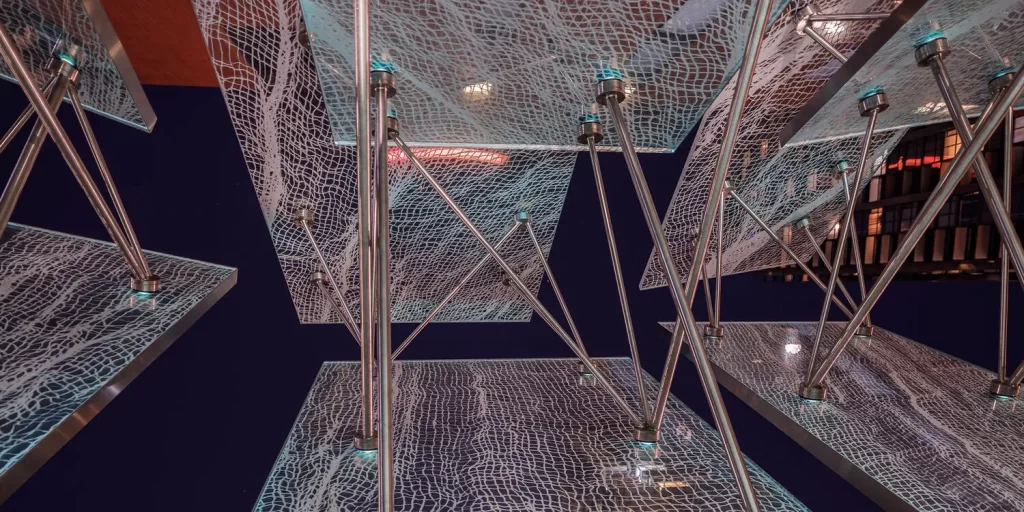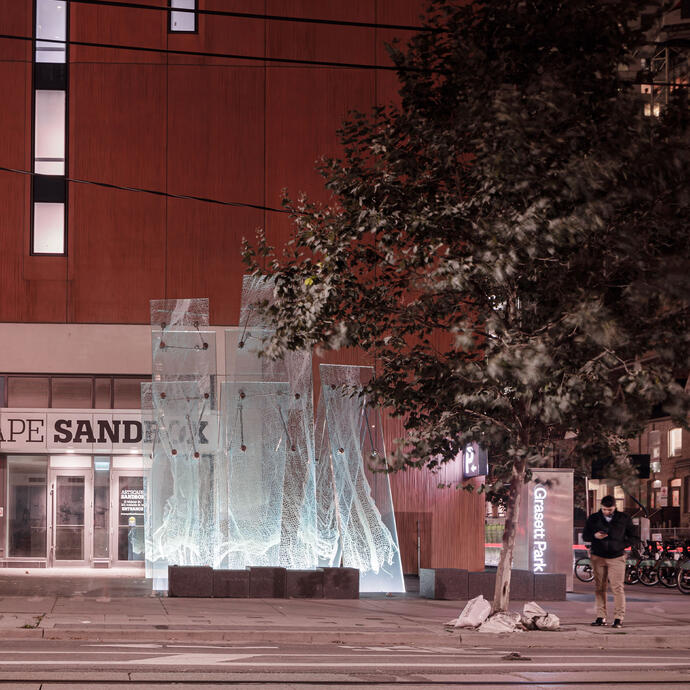 Smith + Andersen lighting designers worked with structural designers from the very beginning of Grasett Park's project process, delicately balancing between the weight of five sheets of compressed glass and the fragile infrastructure underneath. Equally complex is the light distribution, which travels from the bottom of the panels, reflects on the higher panels, and tells a visual story along the way. Through translucent panels, the illustration is brought to life with the texture and dimension of the lit etchings which contrast the night sky, commemorating the lives lost during the famine. This meticulously calculated and complex structure is as much an homage to craftsmanship as it is a glowing beacon of healing.
St Paul's Church 
Architect: Edward James Lennox (new church expansion in 1860)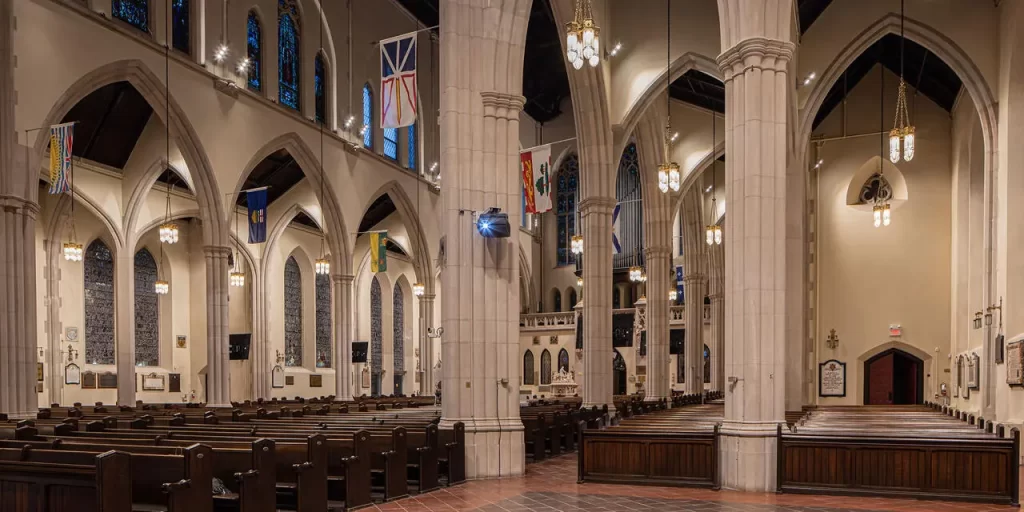 Every aspect of the lighting in St Paul's Church is intentionally placed to showcase the size and majestic architecture of this heritage building. Upper-level archways are each painted with a narrow beam of light, achieved through up-lights from two fixtures under each arch that distribute light at 180-degree angles. Adjustable light levels give the place of worship an ambient glow, maintaining the feeling of a traditional church.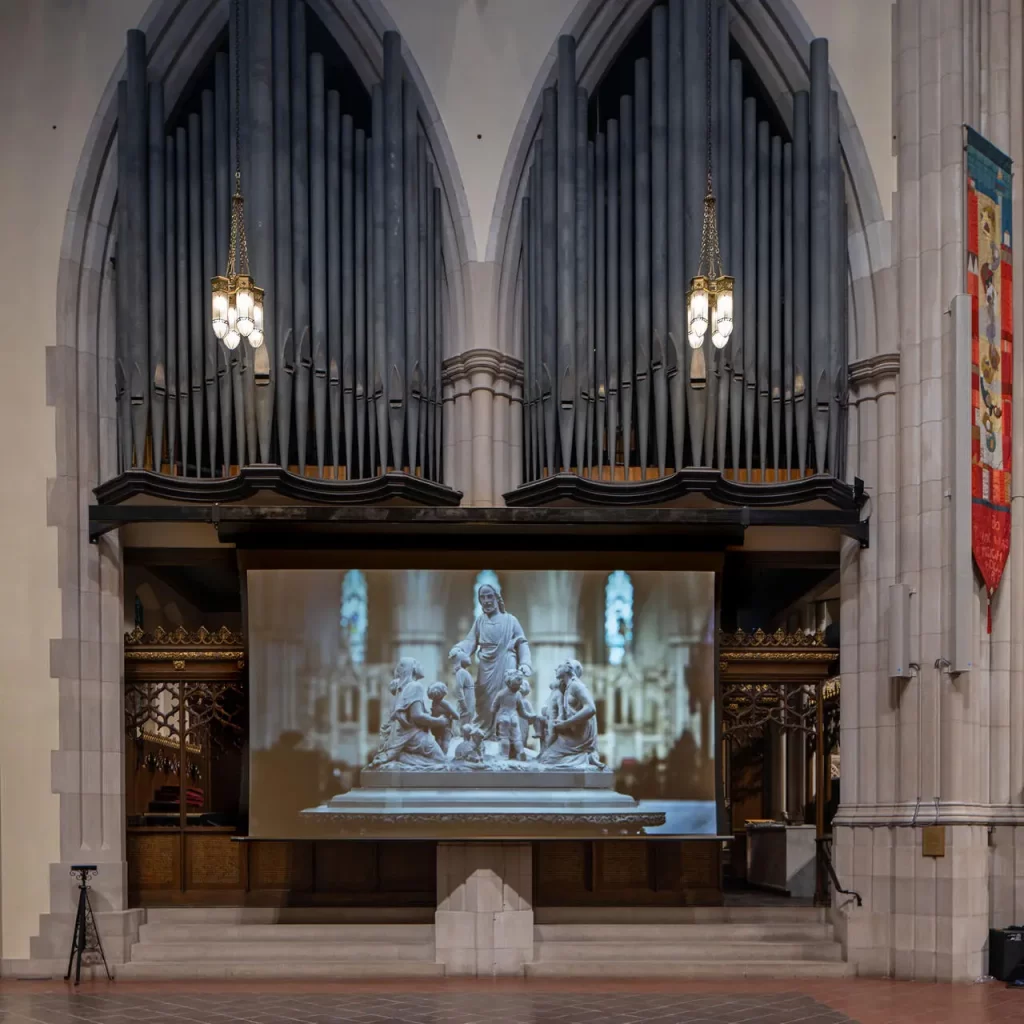 Luminaires create focal points in St Paul's church, with lighting levels that highlight features such as the pulpit and organ. Simultaneously, considerations such as reading light levels demonstrate practicality in the design. From wall-mounted gimbals, to floodlights hidden from public view, to heritage pendants refurbished and supplemented with LED luminaires, this layered lighting arrangement meets the multi-functional role of each space. Smith + Andersen's lighting designers carefully selected features that would transform the space with lighting distribution that celebrates, rather than competes with, the heritage architecture.