Central Staircase Takes on Sculptural Quality with Integrated Architectural Lighting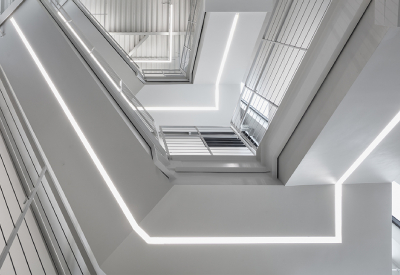 April 12, 2022
San Francisco airport's Consolidated Administration Campus (CAC) Phase 1 was conceived to bring together multiple airport business units under one roof. These teams had been stationed in diverse locations across the airport's massive campus until its opening. In their new home, the employees can now more effectively collaborate as they drive the airport's day-to-day operations.
Project architects Perkins & Will, in collaboration with Mark Cavagnero Associates, brought in JS Nolan + Associates Lighting Design, LLC (JSN+ALD) to design the lighting for the new 135,000 sq. ft. building.
One of the distinguishing features of the four-story building is an interior stair tower, an asymmetrical structure that winds its way up in many angles as it connects each floor. Janet S. Nolan, principal, and owner at JSN+ALD, sought a creative way to not only illuminate the stairwell but highlight its architectural lines.
Nolan selected A-Light's Accolade D5 recessed linear fixture to serve as the sole source of illumination for the stairwell. At 3.5″ wide, the fixture features high-performance direct lighting and a HE Tech™ lens to create clean lines of light.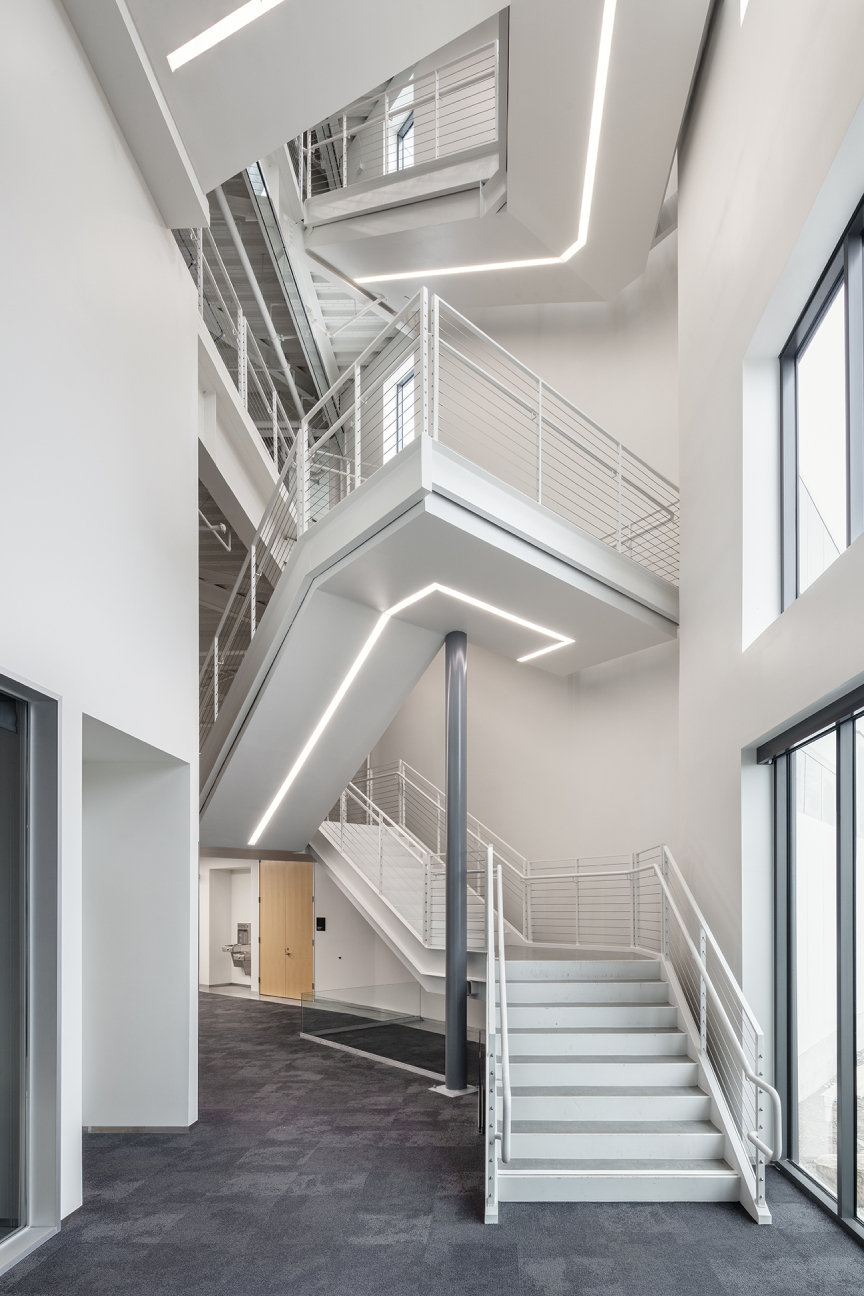 "I really like architecturally integrated lighting," said Nolan. "My goal was to light the stairs to appropriate levels but do so in a way that the illumination would enhance the sculptural quality of the staircase."
Collaborating with A-Light's Design Assist team, Nolan developed a pattern of light that follows the twist and turns of the stairwell. She indicated this was a tremendous challenge because of the extent of atypical angles along the way. The result is striking lines of continuous light that are seamlessly integrated into the architecture.
Additional A-Light luminaires are located in various spaces throughout the campus. Surface mount Accolade D3 luminaires are utilized as perimeter wall grazers to light the vertical surfaces and contribute to the general illumination in meeting rooms and private offices. Accolade D2 linear pendants, with both uplight and downlight, are suspended above boardroom tables, and in employee break rooms.
"The A-Light team is very effective at working through unusual challenges – in this case, the stairwell – to bring our lighting projects to a successful conclusion," Nolan said.
PROJECT NAME: San Francisco Airport – Consolidated Administration Campus – Phase 1
LOCATION: San Francisco, California, USA
PROJECT COMPLETION: 2018
LIGHTING DESIGNER: JS Nolan+Associates Lighting Design, LLC
PHOTOGRAPHY: Mike Kelley