Ontario Association of Architects Headquarters Recognized with Sapphire Design Excellence Award
Dec 6, 2021
This month, we explore a highly energy-saving application of networked lighting controls at the Ontario Association of Architects Headquarters, which earned a 2021 Design Excellence in Networked Lighting Control Award for Energy Management. Lighting control design by Gottesman Associates. Lighting control system by Lutron Electronics.
This 30-year-old building was the winning entry of an international design competition. Owner-occupied by the architects' association, licensing over 4,000 members, with four light switches controlling all 22,000 sq.ft.
The goal of renovation was to achieve Net Zero carbon of The 2030 Challenge in 2020. A team approach with holistic view was taken; all building systems were analyzed together to achieve optimal energy efficiency. Sustainable lighting systems and controls were identified as pillars of project success.
Extensive daylight modelling informed glare-mitigating glazing decisions and lower target illuminances. Luminaire placement was carefully selected to ensure easy accessibility for maintenance. Flicker free, 35K, 90+CRI LED was used throughout. Contrast ratios guided illumination of vertical surfaces and tasks.
Design mandate was to maintain and complement the original architecture. Lighting made use of the complicated structure, revealing interesting features and characteristics. Many luminaires were integrated, concealed from view. Where visible, luminaires mimicked architectural elements reinforcing building form and creating beautiful ambiance.
Indirect lighting floats the building above the ground floor parking, exposes the volume of the 30-ft. atrium, provides flexibility in meeting and council rooms, and delivers comfortable ambient light at reception and offices.
Lighting controls were critical for projects success with luminaire choices and multi-function spaces requiring compatibility and integration of drivers and lighting protocols, working harmoniously for system control. The required system dashboard is used for continuous monitoring of energy consumption and connectivity to building automation system.
Expandable, flexible wireless control system includes daylight harvesting, vacancy sensing, light level tuning, and involved rigorous commissioning. Photocell placement was tricky due to daylight redirecting film on upper clerestory windows and electrical uplighting. The ultimate result: average operating load is ~.1W/sf, with ~75% reduction in consumption compared to pre-renovation.
Budget was tight and met. Energy goals achieved. The project is a shining example of cost-effective, efficient, creative and controlled design.
The building floats with glowing transparency. Rectangular and linear luminaires reinforce building form; same luminaire with custom bend emphasizes curve of feature stair. When building is unoccupied, lighting is set to a minimum: only dimmed parking and curved feature stair lighting are used for security and to expose the building's unique presence.
The reception area is well demarcated. Lighting controls tune and dim luminaires, and turn them off when spaces are unoccupied.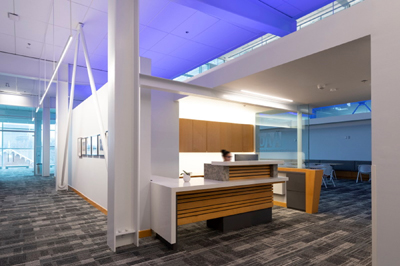 Layers of light bring the central atrium to life. Luminaires are well concealed in complicated structure, minimizing glare and adding depth and mystery. Vertical surfaces and tasks are well illuminated. Lighting controls help create different moods. DMX controlled RGBs are intended for special events in this multipurpose space. All lighting responds to automated controls.
Suspended luminaires in partitionable council/meeting rooms are two-circuit, separating uplight from downlight for flexibility. Daylight harvesting control sets maximum light output. Controls tune the maximum light level available to users. Tuning can be adjusted in the future for lumen maintenance, increasing useful life of luminaires.