Canadian Lighting Project and Lighting Fixture Earn 2018 AZ Awards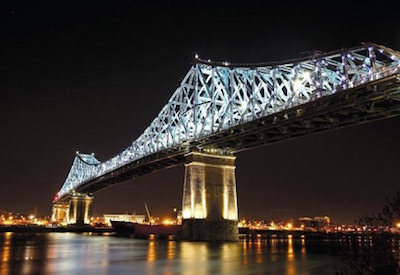 July 24, 2018
Two Canadian firms are among 20 winners of Azure magazine's eighth annual international AZ Awards competition: Moment Factor, for its interactive illumination of the Jacques Cartier Bridge in Montreal, Quebec, and Castor Design, for its induction wall light that uses an expired fluorescent tube lamp. This year's competition received 997 submissions from 46 countries. The winners were unveiled at a celebration at Toronto's iconic Evergreen Brick Works. Winners and finalists flew in from as far away as Austria, Mexico and Japan.
Moment Factory: 2018 AZ Award for "Best Lighting Installation"
An iconic structure in the Greater Montreal landscape, the Jacques-Cartier Bridge has been used by Canadians to cross the Saint Lawrence River for almost 90 years. The five-lane steel bridge serves as a gateway between the city of Montreal and its southern suburbs, and with 98,000 vehicles traversing it every day it is the third busiest bridge in Canada. The bridge spans over 3,350 m (11,000 ft) and is best known for the eight finials, or architectural ornaments, that sit atop its four main columns and resemble the Eiffel Tower.
The concept for the project was for the Jacques-Cartier Bridge to reflect the energy and pulse of the city in real time through the use of 2,800 intelligent LED lights attached to the steel truss structure. Philips supplied the interactive lighting for the "digital skin" of the bridge with 2,400 iColor Accent Powercore fixtures. Each evening, as the sun begins to set on Quebec's metropolis, the lights awaken and bring the bridge to life with vibrant colours and animations. Throughout the night the lights on the exterior of the bridge respond to Montreal's energy by creating patterns using colours, intensity and motion based on the frequency 'Montreal' is shared on social media. In effect, these patterns mirror the heartbeat of the city and make it the first People Connected Bridge.
"When working on the historic city of Montreal's most visible architectural icon, our client and team of designers set demanding environmental, aesthetic and connectivity performance criteria," says Gabriel Pontbriand, Moment Factory Senior Creative Director and Lighting Designer. "Philips Color Kinetics LED Lighting system was a top choice for us to illuminate the dynamic exterior digital 'skin' component of the bridge due to its weather and vibration resistance and long life span. Its excellent resolution and dimming attributes were key for the designer team to tell the living story of our city, our seasons and our people."
Castor Design: 2018 AZ Award in the Lighting Fixtures category
Castor Design is a Toronto-based practice run by Brian Richer, a trained architectural stone carver with a degree in English literature and philosophy, and Kei Ng, a trained architect with a background in set design. According to Azure's coverage of the award winners, Richer and Ng are interested in the middle ground between art and design, bringing a sense of irreverence to each project. Materials and their reuse make up an important part of Castor's aesthetic; burnt out bulbs to make lighting, a rusty shipping container to make a sauna.
As described by Azure, Castor Design has developed an elegant way to revive — and actually improve — expired fluorescent lights aith its induction wall light. The induction wall light has two components:
a foot-activated steel switch box that resembles a guitar pedal
an electrical circuit and a copper coil that encircles an iron rod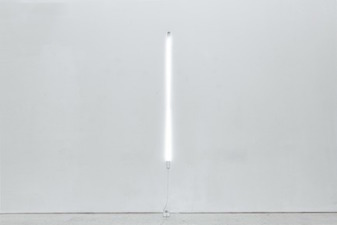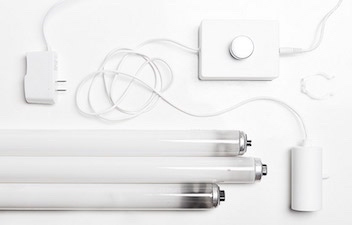 When the switch is tapped, a high-voltage electrical current activates the circuit, which transfers power to the copper coil. This coil is connected by a wire to the lamp's second major component — a holder, or wall-mounted fixture that cradles the used bulb — enveloping it in an electromagnetic field. In this way, the T12 bulb emits a glow far more pleasing than the glare of the original fluorescent.
The underlying scientific principle — electromagnetic induction — is almost two centuries old, having been discovered by the legendary British physicist Michael Faraday in 1831. While the technology is straightforward, Castor's application of it is conceptually superb. The lamp holder exposes the blackened ends of the bulb, accentuating the life-after-death symbolism and gently reminding us of our culture of single-use consumption. When an appliance conks out, you send it to landfill. But, as this recycled beauty suggests, a creative mind can not only revive a spent object but improve upon it, too.
Find out more about all Azure 2018 award winners: https://awards.azuremagazine.com/cms/2018-az-awards-finalists-winners/.