Chatham Bridge to be Lit Up Every Night of the Year with the Help of MagicLite
May 4, 2023
Chatham's Third Street Bridge was awash in colour the night of March 13th, and it will remain that way from dusk to dawn going forward.
The LED lighting – installed in the bridge as part of a $14 million rehabilitation of the structure – was quietly turned on March 13th 2023. The installation features Magic Lite's RGB eStrip and DMX controllers, allowing for many festive colour changing options.
Words from the Chatham Community
A video on The Chatham Daily News Facebook page of the light display reflecting off the Thames River drew an immediate response.
"The lights look outstanding," one person commented "Chatham residents will enjoy this for years to come."
Another person exclaimed: "Wow, that's beautiful."
"Loving my downtown life," said another person.
"We're very excited about (the lights)," said the director of engineering Chris Thibert.

"We were tasked by the mayor to come up with ways to really enhance not only the bridge project, but just really enhance our downtown and really try to promote attraction and promote tourism to our downtown," he said. Magic Lite was selected as a provider of the lights based on their quality and ability to adapt to our desired outcome.

Chris Thibert, Director of Engineering, Chatham-Kent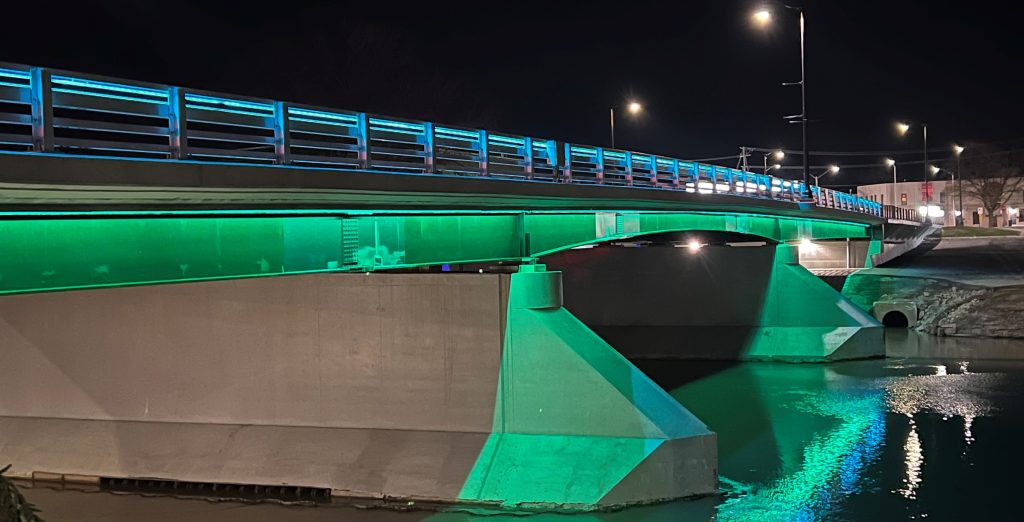 At Magic Lite, we pride ourselves in quality and innovation in everything we do. This bridge is a living example of how we will go to the next level to fulfil our clients' needs! For more information on our products, and services, please feel free to reach out to Magic Lite's National Sales Manager, Jennifer Penton at jen.penton@magiclite.com !
Credit: Chatham Daily News