Meet the DLC – Executive Director and CEO Tina Halfpenny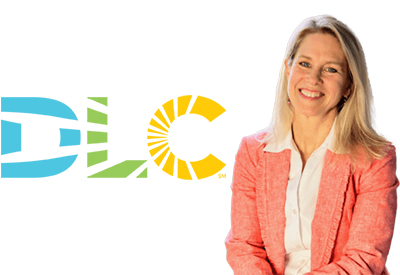 March 17th, 2022
DLC Executive Director and CEO Tina Halfpenny is committed to maximizing energy efficiency's potential as a climate solution, ensuring the DLC is steadfast in its support of lighting technology and controls strategies that reduce energy use and minimize environmental impacts while supporting increased building intelligence and versatility.
Tina came to the DLC following her pivotal role in developing and implementing Massachusetts' nation-leading energy efficiency initiatives as Director of the Massachusetts Department of Energy Resources Energy Efficiency Division. During that time, as chair of the newly-formed Massachusetts Energy Efficiency Advisory Council, Tina oversaw development of statewide energy efficiency plans that have been ranked first in the nation by the American Council for an Energy Efficiency Economy's (ACEEE) annual state-by-state Energy Efficiency Scorecard – a distinction Massachusetts maintained for several years.
Tina spent over a decade in various roles that distinguished her as an energy efficiency champion, including directing energy efficiency programs across National Grid's US territory. At Grid, she also helped shape state energy policies for Massachusetts, New York, and New Hampshire, as well as the city of New York's sustainability plan.
Tina regards lighting as a flexible asset for energy savings and performance capabilities, noting that it is ubiquitous in every building and hardscape. Arriving at the DLC in 2015, she quickly transformed what had been a project of the Northeast Energy Efficiency Partnerships into an independent, international non-profit that now drives energy efficient and connected commercial and industrial lighting solutions across North America. The most challenging part of that job is making complicated solutions simple and accessible, she says, and the most rewarding part is, "hands down", working with the DLC staff.
While Tina's professional credentials are impressive, her unwavering pursuit of energy and climate solutions is personal too – consistent with an individual bias toward actions and decisions that benefit the planet. Outside the DLC office, Tina seeks ways to make the world a better place. In her hometown in Massachusetts, Tina volunteers on environmental education activities with her children's school district, once spearheading students' efforts to collect 440 pounds of plastic bags and film (the equivalent of 47,000 plastic bags) in just four months.
"Everyone who is participating in this program has a heightened awareness of just how much plastic waste we generate in our daily lives," she told her local newspaper following the drive. "We need to find ways to avoid it altogether."
An amateur beekeeper and native wildflower enthusiast, Tina also works on a multi-town advocacy group for landscaping with native plants and flowers. Further afield, she is reforesting a property in Costa Rica – where one visit revealed a jaguar nest. And a recent vacation found Tina and her family picking up trash along the Amazon River in Colombia.
A native of the Philadelphia suburbs, Tina graduated from Gettysburg College with a degree in Business Management and Environmental Studies, with graduate work in the Pacific Northwest in Geology and MBA studies at the University of Massachusetts.