United Technologies Center for Intelligent Buildings Receives Lighting Control Innovation Award of Merit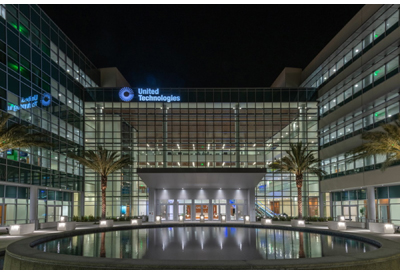 Oct 7, 2021
A pleasant lighting effect was achieved using custom bollards, soffit lighting and landscape lighting in accordance with LEED light pollution requirements.
The Lighting Control Innovation Award was created in 2011 as part of the Illuminating Engineering Society's Illumination Awards program, which recognizes professionalism, ingenuity and originality in lighting design. LCA is proud to sponsor the Lighting Control Innovation Award, which recognizes projects that exemplify the effective use of lighting controls in nonresidential applications.
In the immersive chiller chapel, staff may toggle between "Exhibit" (blue) and "Standard" (white) scenes via Mobile App. Daylight & occupancy sensors are also used.
This month, we explore a highly integrated lighting controls installation at the United Technologies Center for Intelligent Buildings, a LEED Platinum Certified project in Palm Beach Gardens, FL. Lighting controls by Eaton (Fifth Light), with some DMX control by Acclaim for some theatrical color-changing luminaires. Lighting control design by EXP. Photography by Tim Willings.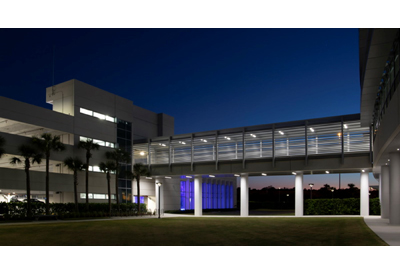 Effective management of outdoor lighting creates comfortable luminous environments and enhanced sense of security along the pedestrian bridge connecting the Office Building and Parking Garage.
The United Technologies Center for Intelligent Buildings is a LEED Platinum Certified project which consists of a combined 223,000 SF Office Building & Customer Experience Center, 159,000-sq.ft. four-story garage and situated on a 6.7-acre site. The building houses a diverse array of space types such as: Administration, Exhibit, Theater, Conference, and Dining. The design mandate with regard to controls was to develop a system that would showcase United Technologies' innovative approach to facility- wide monitoring and control solutions. The Lighting Control System (LCS) is integrated with the Building Automation, Security, Fire Alarm, A/V, and Room Booking systems and allows for end- user control of individual luminaires within shared office spaces. UTC asked that no switches or wall stations be used in office spaces or any space accessible to guests and that occupancy sensors not be used in corridors for security reasons.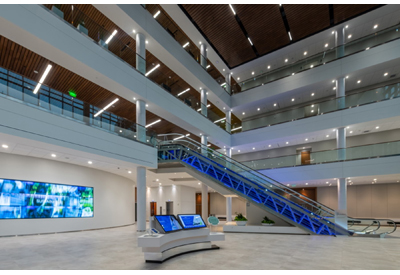 The atrium lighting design creates a pleasant atmosphere, welcoming visitors to the building. White light serves as a backdrop to exhibits accented with blue light.
A hard-wired DALI network was chosen for speed and reliability. The LCS central processor was installed on the Owner's LAN and linked to the outdoor Wireless LCS, BAS, FA, Security, and AV systems. Every space was controlled using some form of automatic scheduled or occupancy-based control, whether networked or standalone.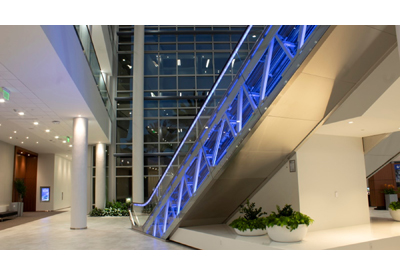 A pool of warm light accentuates a bench below the staircase. Warm tones serve as a visual cue for resting areas throughout the building.
Emergency lighting was controlled using UL924 rated devices. The LCS field-mounted interface devices allowed the designers to switch and dim 0-10V and ELV drivers in addition to DALI, which saved cost and accommodated luminaire diversity. DMX systems were controlled using DALI field relays installed up- stream from the DMX controllers. DALI relay cabinets were used to control receptacles. The design team designed local and facility-wide scenes so that the lighting automatically transitioned between scenes based on occupancy load, time of day or alarm. End- user override was provided via VOIP Phone and a mobile app designed by UTC.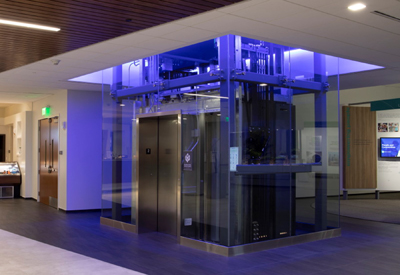 (Left) Blue light seamlessly integrates with this elevator exhibit via a hidden, perimeter cove mounted, color-changing linear LED tuned to the UTC corporate brand color.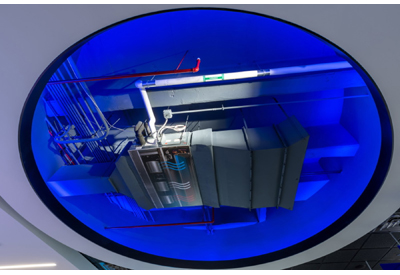 (Right) A ceiling cut-out accenting working mechanical equipment is illuminated automatically based on the occupancy load of the building. Manual override via PC or Mobile App.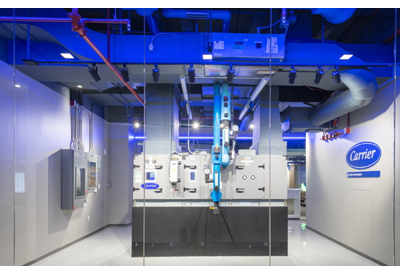 (Left) Blue and white light were used to create a visual interest, while also serving maintenance needs. Manual override is achieved via PC or Mobile App.
Published with the written permission of Lighting Control Association. First published here.