Richard Assaly, LightForm – Works of Art that Work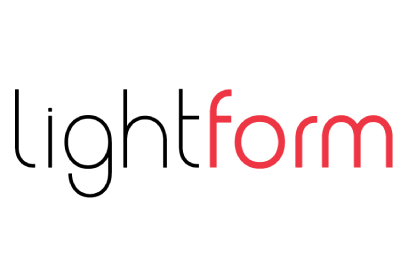 April 21, 2021
By Blake Marchand
As LightForm approaches its twenty-fifth year serving architects, designers, and lighting enthusiasts across Canada, founder and owner Richard Assaly has a lot to be proud of. Since he first established LightForm in a 1200 square-foot space in Edmonton, Alberta–the first company in the city to make international lighting designs available to the architecture and design community–Assaly has cultivated its growth and expansion with care. Today, four showrooms and six offices across Canada and a newly launched website allow LightForm to work directly with lighting engineers and designers in Canada and the United States–giving them the ability to specify high-performing products from across the lighting spectrum.
Offering everything from decorative chandeliers to technical track and innovative modular systems, LightForm has set itself apart by making lighting more accessible to design professionals and the general public alike, while reducing both red tape and prices by closing the gap between manufacturers and end users. Assaly's drive, passion for design, and ability to inspire like-minded people to join him in his vision have driven LightForm to the forefront of the lighting industry, leading where others follow.
When Assaly was preparing to begin his post-secondary education, he received $500–then roughly the cost of a full semester's tuition–in student loans. Although earmarked for educational expenses, Assaly had something else in mind: a Tizio desk lamp, designed by Richard Sapper. In retrospect, it was every bit as much an investment in his future as tuition and textbooks.
Both design and entrepreneurship were in Richard Assaly's blood, coming as he did from a family steeped in a wide range of European design sensibilities. His father, an importer of flooring and modern Danish furniture, designed and built the family home based on the Miesian school of architecture and filled it with the designs of Jacobsen, Wegner, Juhl, and many others. Still, based on his own experiences, Richard Assaly, Sr. wasn't so eager to see his son follow in his footsteps.
As the son recounts: "my father would tell me, 'do anything but the design game; we're in Alberta! Drill a hole in the ground, there's oil there!' But that wasn't for me." Four years after buying his own, the newly-graduated Assaly had nearly thirty Tizio desk lamps in his apartment, which served as his first warehouse as he went door-to-door selling them to design firms.
Through the years that followed, Assaly devoted himself to making connections in the architecture and design communities and learning all he could from them. More than just learning what they needed, he learned what they didn't know they needed. Seeing a need in the Canadian design community for a company that could curate a portfolio of innovative lighting brands and make them more accessible to the local design professionals and specifiers, Assaly founded LightForm in 1997.
Increasing the accessibility of decorative and architectural lighting that are as functional as they are aesthetic has been key to LightForm's success. "Specifiers and engineers are looking for high-quality, beautiful lighting; it needs it to be available to them and, more, they need to know that it exists and can be just as easy to specify," Assaly says, adding that education has been integral to LightForm's success.
Because the architectural lighting market was still growing in Canada, initially LightForm had to make informing customers about the availability of designer architectural lighting solutions a priority. "Our mantra, from the very beginning, has been 'aim high,'" Assaly notes, "that's the foundation for our business, and it's something we work to help our specifiers do. We do everything we can to make their work easier, giving them the tools and assets, they need to show their clients the 'good stuff.' Things are improving but lighting still poses a big challenge to specifiers trying to get their clients the best product within budget–our job is to let them know what is available and all the possibilities that exist for their projects."
Helping architects and designers cut through the dense undergrowth of the designer lighting market opened up unexplored worlds in architectural lighting and led to a successful business model for LightForm. Assaly was insistent that LightForm cater to specifiers who understood, in his words, "It costs more to do a bad job than a good one." Assaly intended LightForm, "To contribute to and encourage the trend toward authentic design–designs by architects and designers for architects and designers."
Assaly makes reference to "sustainable design" as the type of design LightForm caters to: "Truly sustainable design means designs that are works of art that work. Not copies. They don't follow disposable trends; they are to be held onto for a lifetime. Each product has a name behind it, and a brand that has tested it through refined processes to bring it to market."
New showrooms in Calgary and Vancouver were as successful as the original, leading to a Toronto showroom in 2012. As LightForm's presence spread, it aimed to create a new way of thinking about lighting for consumers, and a new, streamlined, way of doing business for specifiers. The company was helping to create a new market, so adaptability was key. "I like to say we've evolved over the years, but today we evolve weekly," Assaly says with a smile. "Technology changes constantly–both in lighting and in how we communicate with customers–as do our clients' needs."
LED technology, in particular, has led to an explosion of design possibilities, according to Assaly. "It used to be that you had to specify an architectural white goods product to get a performance product, but thanks to LED and other new technologies, we can offer what was once considered only a decorative product without sacrificing performance."
But new technology also introduces new technical requirements and specifications, such as LED did with lumens per watt and watts per square foot. LightForm has had to learn fast to help specifiers measure lighting requirements in decorative products: "we now provide IES, 2D, 3D, Revit files and so on, even in our decorative collections." Historically, such information has never been available for decorative lights, but "LightForm has bridged the gap between architectural and decorative products by offering this technical information to specifiers."
LightForm positioned itself early on to offer its clients maximum versatility by closing the gap between the manufacturer and the end user. Taking on many of the roles–importer, agent, distributor–that once made purchasing high-performing lighting such a challenge has helped LightForm reduce delivery times and increase affordability. By establishing personal relationships directly with manufacturers, Richard Assaly has allowed LightForm to offer the best available prices for high-quality items, and to adapt quickly and efficiently to the evolving needs of lighting engineers and designers.
One such adaptive innovation was opening an in-house UL lab, which allows LightForm to certify lights for use in North American projects, opening up an entire selection of international lighting from smaller companies that don't do North American certification as part of their process, or even larger brands just starting to embrace the North American market. The goal is to source international products, certify them, and get them to clients in the same amount of time it would take to order common commodity products. It's a bold goal, but fitting for a man with the mantra, "aim high."
"Today LightForm is at the forefront of offering international designs from lighting manufacturers around the world in a convenient, efficient, and knowledgeable way," Assaly says, "we source from American and Canadian manufacturers, we import products from Italy, Denmark, Spain, Germany–we really source from all over the world. It can be a challenge presenting that kind of inventory and variety clearly and concisely, but it's the kind of a challenge LightForm likes."
One of the key tools that has served LightForm particularly well in both adapting to a changing world and serving its customers with maximum efficiency and convenience–all while the world felt the effects of a global pandemic–is LightForm's new website, LightFormSHOP.com. As Assaly explains, with some relief: "the two years we spent developing a powerful online catalogue paid off; we launched it just as the Covid-19 lockdowns started. We had to close our doors to the public for the first time in LightForm history, but the website allowed us to serve our customers just as we always have–even better, in fact."
The website's success depended largely upon the last of the elements that sets LightForm apart, both online and in its showrooms: its people. "Our team is made up of young, talented designers and design professionals who have decided, like me, that what drives them is a passion for lighting and design. It's that passion that drives them in this crazy lighting industry," Assaly explains.
He goes on to discuss his personal philosophy in hiring the best people to represent LightForm: "Technical knowledge can be learned. I don't mean to make it sound easy–it's not–but, through hard work and drive, it can be learned. What can't be learned is taste and design aesthetic. The essence, the romance, the art of design and how to use a light to express meaning and emotion: that's something you get or you don't, and that's what I've always looked for in building the LightForm family."
Building LightForm has been a twenty-five year journey for Richard Assaly, and one that's nowhere near over. Plans for new showrooms, as well as agents working in under-serviced markets in Manitoba, Saskatchewan, and the Maritimes, are already in the works. The next phase of LightFormSHOP.com is preparing to launch, with a new click-to-spec architectural lighting functionality that will offer an unprecedented experience to specifiers building architectural lighting plans. Beyond that, what else can Richard Assally hope for LightForm? "To be better. To offer our customers the best service and experience we can. To aim high."