Stephen Lee, Canadian General Manager with EiKO Global LLC, Shares His Perspective on the Industry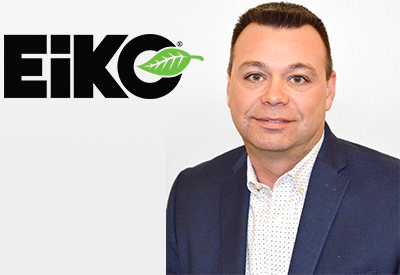 Jan 3, 2020
LDS caught up with General Manager of EiKO's Canadian division Stephen Lee, who was kind enough to take some time out of his busy schedule to share his perspective on the industry.
EiKO is a global fixture, lamp and, more recently, controls manufacturer headquartered in Shawnee, Kansas. Additional locations include European operations in Frankfurt, Germany; APAC operations in Taiwan; and Canadian operations in Barrie, Ontario. EiKO also has five distribution centres in North America located in Ontario, Alberta, Kansas, Nevada, and New Jersey.
Lee came to EiKO from the fragrance manufacturing industry where he moved his way through various operational positions. Living in Barrie and working in Toronto was not ideal, particularly when it came to his work-life balance. This is what brought him over to the lighting industry.
"I came across an opportunity EiKO had posted for an Operations Manager. It was a step up for me at the time, and was located here in Barrie, only five-minutes away from home."
Stephen has been in the lighting industry for 12-years, all with EiKO. First in the Operations Manager position and now as General Manager responsible for EiKO's Canadian division. Despite being new to the industry when he first joined EiKO, his core responsibilities were familiar from an operations perspective.
"Operations experience can transition fairly easily between industries," he explained, "I was shocked to see how many different lightbulbs there are," he said laughing, adding that there was an adjustment period as he became more familiar with the ins and outs of lighting.
"At the time EiKO was strictly a lamp manufacturer – we had no fixtures at all, we had a broad range of lamps that covered industrial, commercial, residential, automotive, medical, and av/photo markets" explained Lee, so, understandably, it took some time to learn the industry. Particularly given EiKO's broad portfolio.
Moving into the position of General Manager with EiKO brought Lee into other areas of responsibility, sales being one of them. "It's been great, getting out on the road, meeting customers, interacting with our distribution partners, attending industry conferences, and working with Greg Cober our National Sales Manager. Greg and I work very closely, the growth we've seen over the past years has been a combined effort."
EiKO has a long history in lighting and have evolved with the industry over their 40+ years existence as a company. As market demands have shifted with new technologies and trends, so has their product offerings and solutions. The LED market is perhaps more competitive than its ever been, which is where the added expertise and accumulative knowledge that comes with longevity is so critical.
"We've continued to expand year after year, and make changes when change is needed, we've seen consistent healthy growth year over year," said Stephen with respect to EiKO's Canadian presence, adding that they have a vested interest in serving their customer base better. The distribution centre they opened in Calgary, for example, or the recent acquisition of Xeleum, which bolsters their intelligent lighting control offering.
"What I'm seeing in the industry right now is a little bit of a slowdown," noted Lee with respect to the current lighting market in Canada. Something that has certainly been echoed, both in respect to Canada as well as globally. Which in part may be due to competitiveness. With more products available and being offered at lower price points, it can be difficult for manufacturers to find value. Something EiKO has managed to do continually.
"We've been fortunate year-over-year to experience continued growth, and we're continuing again this year to take some market share."
The fixture segment of EiKO is relatively new for the company. "What I'm finding interesting is the intelligent fixtures, the smart lighting and controlled lighting," noted Lee. "As a company, we are constantly adding to our portfolio, whether its LED lamps or fixtures. We are committed to having the right product in the right place at the right time, which has helped our growth. Intelligent lighting is the direction [the industry] is going."
And that obviously went into the decision to acquire Xeleum. Adding a company that strictly deals in intelligent, connected lighting allows them to offer full solutions.
"Another important piece" he continued, referring to the direction of the industry, "is being able to customize and modify fixtures. We've recently added assembly lines at head office in Kansas that give us those capabilities. Taking a fixture and adding sensors, cords, emergency backup, or plugs, for example."
"It's where the industry is at, we see that, so we're adjusting – adding customization and modification capabilities and our acquisition of Xeleum will add to our portfolio and allow us to continue to see growth in years to come. Focusing on our distribution partners first and offering services that drive their success."
When it comes to making those business decisions, a key for Lee and EiKO is maintaining an open-minded atmosphere while still committing to direction. "To be successful you need to establish a definitive direction without sacrificing flexibility and customer service." Being able to adjust with new technology and trends is a big part of why EiKO has been around as long as they have.
"We've got a great team, here – everyone provides input on a constant basis," he noted, "what we're doing today doesn't necessarily mean it's right for tomorrow. So, you constantly have to be looking at new ways to improve efficiencies and profitability."
One challenge EiKO has turned into an asset is the constantly evolving LED technology.
"Technologies are changing so quickly, distributors are stocking less, therefore relying more on their manufacturer partners to have inventory available."
And that's something they are willing to take on. Managing those generational changes so that distributors aren't stuck with inventory they can't move or have to sell at a reduced rate. Which goes into what sets EiKO apart. Building relationships by providing a robust service is critical, particularly in a competitive marketplace.
When LEDs first took off there was an influx of new companies that altered the competitive landscape. That's where the communication and relationship building side of the industry becomes so important. EiKO was able to weather that LED-storm because their customers knew they weren't going anywhere. And that goes along with their ability to have inventory where it needs to be. Opening their Calgary warehouse, for example, reinforces that commitment to the Canadian market.
"We are committed to Canada," said Lee, "we're here, two facilities, inventory, 40+ years of business – we stand behind our product."