Montreal's Studio d'Armes Combines Art and Technical Expertise to Create World Class Luminaires
Aug 21, 2019
Born in 2016 following the union of Alexandre Joncas and Gildas Le Bars, d'Armes studio offers high-end vision without compromising on design. Their creations reflect their designer's fascination for light and its effects on people.
D'Armes is a high-end design and manufacturing studio operating out of Montreal. Just one year into their collaboration, d'Armes was awarded an Archiproducts Design Award for their RA Wall Lamp. Its innovative design utilizes the neon light traditionally associated with harsh commercial lighting and obnoxiously coloured flashing signs. Joncas, however, repurposes the technology to great effect. Creating a warm and luxurious fixture that emits a hypnotic luminosity.
Clearly, Joncas and Le Bars complement each other well. Combining an appreciation of art and a mastery of technical lighting design, they have produced some breathtaking luminaires. Their RA wall lamp or their 2018 design, Cé, for example, a solid bronze wall-mounted fixture Joncas describes as "a way to honour First Nations."
"The inspiration came from Cécrops, who would be the first native, the founder of Athens according to Greek mythology."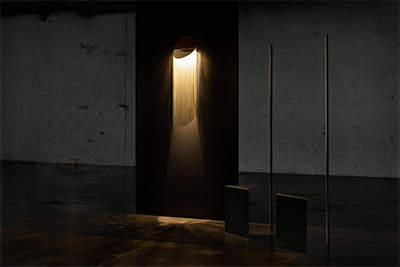 D'Armes's lighting design is the result of an artistic approach, technological mastery and societal implication. The studio works with the light as much as with the object itself. Clear and pure lines and natural stone or bronze accents create exceptional objects with a timeless design. The quality and texture of the light demonstrate the care given to the choice of technologies and to the assembly process. "Light in a space is like a shoe that pulls together an outfit," is a mantra of co-founder and designer Alexandre Joncas.
All models are assembled by hand in the Montreal workshop. Motivated by a willingness to master their creations from design to fabrication, the studio prefers to support suppliers and artisans from greater Montreal. However, proud of their origins and participation in the influence of the city on the world's design scene, d'Armes is far from limiting itself to its hometown. Their designs and techniques are executed with the whole world in mind. Since its foundation, the studio has emphasized its international character and its modern entrepreneurial vision under the aegis of the operations director, Gildas Le Bars.
Their RA Wall, utilized in the design of a London, UK restaurant was recently shortlisted for the Restaurant & Bar Design Awards. A global competition for the food and beverage industry.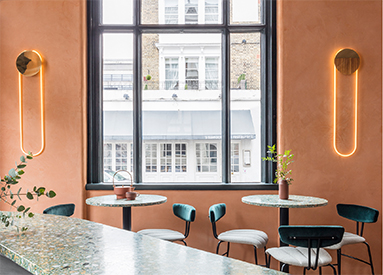 "The designer of this London restaurant, Sella Concept, has selected the RA Wall fixture as a masterpiece of the design concept. RA Wall participates in its surroundings by playing with contrasts, shadows and reflections," noted Studio d'Armes via news release.
D'Armes Luminaires began operating out of a former costume workshop within Montreal's Chabanel textile district. A fitting home for a manufacturer rooted in artistic design and technical expertise.
A former student of visual arts, Joncas' unique creations are inspired by his passion for design, architecture, and music, as well as the visually striking 1980's sci-fi universe. His designs are a combination of Bauhaus and Brutalism, along with a New Wave influence.
As well as being visually striking works of art, d'Armes Luminaires utilize green technologies, such as LED and neon lighting, which are long lasting, require little maintenance, and consume little energy. The use of materials such as bronze, stone, glass and neon confer durability and authenticity to each lamp. Each model can also be developed with various finishes, colours and dimensions, while offering adjustable levels of luminosity.
Gildas Le Bars initially studied communications and political science. He entered the lighting industry in as a production co-ordinator, also serving in a director role. Gildas' focus is on client satisfaction and the quality of the production process, while also ensuring d'Armes has a positive impact on society, the local community, as well as the environment.
D'Armes simultaneously embodies a local and global mindset. Sourcing their materials from local suppliers, their fixtures are light bending neon metal pieces of art that gracefully illuminate the spaces they inhabit. The Cé is a bronze haloed vale that transforms the surrounding space as much as illuminating it, while the hypnotic RA Wall features a hypnotic strip of contoured light suspended from a stunning natural bronze medallion.
The RA Pendant has been utilized in several restaurant projects due to the warm campfire aesthetic produced by the uninhibited rectangular line of neon light, effortlessly suspended by silicon cables. Projects featuring the RA Pendant include Laval's Miss Wong restaurant and Gatto Matto in Montreal. Other interesting project are Montreal a Milano, which features the RA Line and Cé Wall; and Ryu, a Japanese restaurant in Montreal, which features the Hartau Series.
As a small company they manufacture each fixture with a considerate pace, as each error is that much more costly. And that translates into high-quality made to order luminaires. Visit their website for more information: www.darmes.ca