Lightmaker Studio: Lighting is Also About Beautiful and Spectacular Objects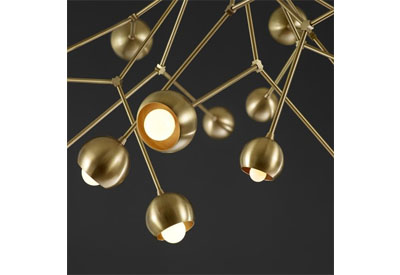 August 15, 2017
The Studio introduced their sculpture-like modern lighting pieces and launched their new Boom Chandelier.
Established in 2014, Lightmaker Studio designs and produces original chandeliers and architectural lighting. All pieces are assembled by hand and finished at their Studio located in the Distillery District of Toronto.
The Studio, led by Denise Murphy along with her husband Michael as design lead, uses rhythm and geometry to create distinctive pieces. The Studio's work has been described as being more like lit sculptures than conventional light fixtures. Guiding principle seems quite simple – make beautiful objects. They collaborate with designers on residential and commercial projects across North America. Refined materials such as hand-finished brass and blown glass predominate but polished copper and nickel are also used. Their glass is hand-blown. Vintage lighting forms help to create a sense of timelessness throughout the collection. Lightmaker Studio collaborates with designers and architects in the U.S. and Canada on residential and commercial projects. Their products include the:
Boom Chandelier
Boom upends the traditional chandelier with an exuberant and unrestrained form. Pure shapes appear to extend at random but the underlying geometry maintains order. Solid brass spheres create a vibrant sense of movement while vintage forms ground the modernity.The Boom Series includes both circular and oval-shaped chandeliers.
Float – Wall
A new addition to the Float series, Float Wall balances a seemingly random pattern of globes on a rigid brass frame. More art-piece than light fixture, Float Wall extends the traditional wall sconce into new territory.
Curve Sconces
The Curve Series balances rusticity with refinement. Solid brass or steel bowls hold smoked glass orbs. Used on the wall or flush-mount on the ceiling, the simplicity of the Curve Sconce allows it to harmonize with almost any element.