Light + Building 2024: Be Electrified
September 19, 2023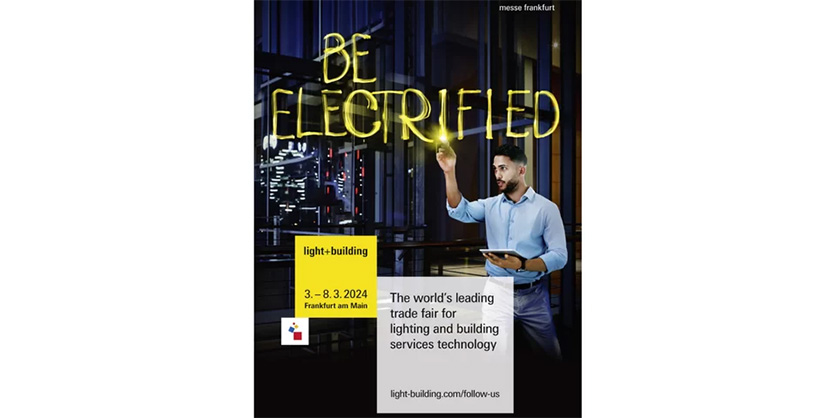 "Be Electrified" is the motto of Light + Building from 3 to 8 March 2024 in Frankfurt am Main. The top themes, "Sustainability", "Connectivity" and "Work + Living" outline what will be essential for living, working and mobility in the future.
Join Light + Building as they take a first look at the exciting topics at the world's leading trade fair for lighting and building technology.
You can expect a varied round of talks with representatives from ZVEI (German Electro and Digital Industry Association), ZVEH (German Electrical and Information Manufacturers' Association) and Messe Frankfurt.
Light + Building cordially invites you to their Press Talk in the run-up to the fair.
Be Electrified: Event Details
Please note the following date in your calendar:
Wednesday, 18 October 2023, 3.00 p.m. (CET)
The moderated "Be Electrified" roundtable talk will take place in English as an online press talk with live video stream.
The official invitation with further details and a log-in link for your participation will be sent to you two weeks before the event.
Light + Building looks forward to welcoming you!
More information available here
Related Article
Modern building-services technology stands for efficient energy usage, individual improvements in the levels of comfort and convenience, as well as all-round safety and security. Lighting is an elementary building block of the built-up world. It not only sets visual accents and, under ideal circumstances, combines aesthetically with the architecture but also provides functional benefits. Light + Building in Frankfurt am Main from 3 to 8 March 2024 covers the spectrum from intelligent lighting technology to future-oriented home and building technology.