Bruce Munro Announced As Opening Keynote Speaker for IALD Enlighten Americas 2023
August 8, 2023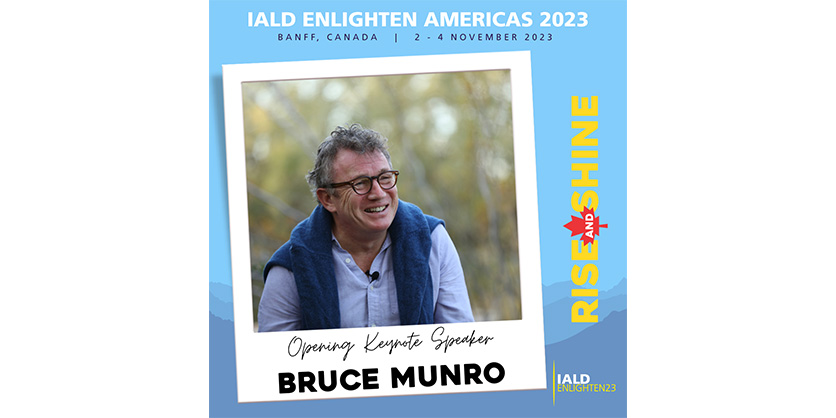 The IALD is thrilled to announce that visionary artist Bruce Munro will be the opening keynote speaker for the IALD Enlighten Americas 2023 conference.
Internationally renowned for his awe-inspiring large-scale light installations and immersive art experiences, Bruce Munro's work has captivated audiences around the world. His innovative use of light and creativity has earned him accolades and recognition as one of the leading artists in the field of light art. His work has been shown in museums and botanical gardens internationally, centering the use of light on an environmental scale to create an emotional response for the viewer.
The Enlighten conference takes place 2 – 4 November at the Fairmont Banff Resort in Banff, Alberta, Canada. Bruce Munro takes the stage in Friday's opening session sponsored by Electronic Theatre Controls (ETC) to share his remarkable journey, insights, and perspectives on the interplay between light, art, and human emotions. Through his captivating stories and artistic explorations, attendees will have the unique opportunity to gain inspiration and deepen their understanding of the profound impact of light on our lives and surroundings.
IALD President, Monica Luz Lobo, is eager to hear from the artist and welcomes the global IALD community to share in the experience.
The IALD Enlighten Americas 2023 conference promises to be an exceptional gathering of lighting design professionals, architects, artists, and enthusiasts from all corners of the globe. Together, the hundreds in attendance will explore the latest advancements, exchange ideas, and celebrate the artistry and innovation that defines the lighting design industry.
Don't miss this incredible opportunity to hear from Bruce Munro and be a part of an illuminating and enlightening experience.
Register now to secure your spot at the EA23 conference and to ensure your participation in this memorable keynote address.
For more information and registration details, please visit iald.me/ea23. 
More information available here
Related Article
With just the right combination of education and adventure, IALD Enlighten Americas 2023 at the Fairmont Banff Springs in the heart of the Canadian Rockies is sure to reignite your creativity with sessions that get you moving and networking opportunities that elevate your professional prowess — all in one of the most magnificent settings in the world.