Renesas and Sunricher Become Regular Members of the DALI Alliance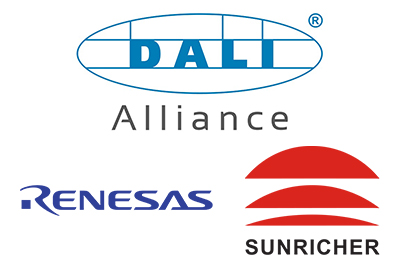 January 21, 2022
Renesas Electronics Europe GmbH and Shenzhen Sunricher Technology Limited are the latest companies to become Regular members of the DALI Alliance, the open, global consortium of lighting companies that drives the growth of lighting-control solutions based on internationally-standardized DALI technology.
Sunricher, a specialist in intelligent lighting technology including LED dimmers and controllers, is based in Shenzhen, China. The online DALI Alliance product database lists more than 70 certified DALI-2 control gear and input devices from Sunricher, as well as several D4i sensors.
Renesas Electronics Europe GmbH, based in Düsseldorf, Germany, supplies a comprehensive portfolio of microcontrollers, analog and power devices for four focus growth segments: Automotive, Industrial, Infrastructure and IoT.
The DALI Alliance now consists of over 300 members from the global lighting industry. All Regular and Associate members of the DALI Alliance are all able to certify their DALI-2 and D4i products. In addition, Regular members can participate in our work groups and contribute to the development of test sequences and new specifications. Benefits of the different membership classes can be viewed here.