Signify reports third quarter sales of EUR 1.6 billion, operational profitability of 11.1% and a free cash flow of EUR 85 million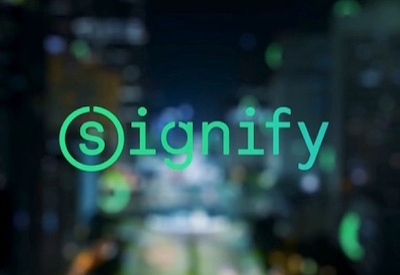 Nov 1, 2021
Third quarter 20211
• Signify's installed base of connected light points increased from 86 million in Q2 21 to 92 million in Q3 21
• Sales of EUR 1,643 million; Comparable Sales Growth of -4.8%, impacted by global supply chain disruptions
• Order book increased by 90% in Q3 21 vs. Q3 20
• LED-based sales represented 83% of total sales (Q3 20: 82%)
• Adj. EBITA margin of 11.1% (Q3 20: 11.5%)
• Net income of EUR 94 million (Q3 20: EUR 90 million)
• Free cash flow of EUR 85 million (Q3 20: EUR 214 million)
• Net debt/EBITDA ratio of 1.8x (Q3 20: 2.2x)
Eindhoven, the Netherlands – Signify (Euronext: LIGHT), the world leader in lighting, today announced the company's third quarter 2021 results.
"I am encouraged by the strong demand for connected lighting and the performance of our growth platforms in what has been a particularly disrupted external environment this quarter. This is evidenced by a healthy order book, which increased by 90% in comparison to the same period last year. At the same time, global supply chain issues caused by component shortages and logistics challenges impaired our ability to meet the high demand. We swiftly took multiple mitigating actions, while simultaneously managing our prices to offset the structural part of the inflation. These actions have enabled us to deliver a double digit adjusted EBITA margin, while continuing to invest in our digital initiatives," said Eric Rondolat, CEO of Signify.
"With the understanding we have today of the external uncertainties for Q4, we are set to achieve the lower end of our 2021 guidance range. We have the plans in place to deliver backlog orders and minimize disruption to our customers. We believe that these unprecedented supply chain issues are transitory and are confident in our ability to convert demand into sales growth as the situation stabilizes. The fundamentals of our business are stronger than ever, driven by the ever-growing need for energy-efficient and digital lighting technologies."
Brighter Lives, Better World 2025
In the third quarter of the year, Signify celebrated one year of carbon neutrality in its operations and has continued to progress on all of the Brighter Lives, Better World 2025 sustainability program commitments:
• Double the pace of the Paris agreement:
Cumulative carbon reduction over value chain was 48 million tonnes, ahead of track. This was mainly achieved by an accelerated shift to energy-efficient and connected LED lighting in the first three quarters of 2021, thereby decreasing Signify's carbon emissions in the use phase.
• Double our circular revenues to 32%:
Circular revenues increased to 24%, compared with the 2019 baseline of 16%. Signify is on track for the 2025 target of 32%. This is mainly driven by the strong portfolio of serviceable luminaires and the further expansion of both the home luminaire and modular businesses.
• Double our brighter lives revenues to 32%:
Brighter lives revenues were 26%, making good progress towards the 2025 target of 32%. This positive trend can be explained by a strong contribution of the wellbeing portfolio, including 'quality of light' EyeComfort, Hue and WiZ products.
• Double the percentage of women in leadership to 34%:
The percentage of women in leadership positions was 25%, stable compared with last quarter, while slightly below our 2021 intermediary step to reach the 2025 target of 34%. In Q3, Signify signed the UN Women Empowerment Principles to emphasize its commitment to gender equality and it continued to diversify the talent pipeline while ensuring equal opportunities, fairness and impartiality for all.
Outlook
Signify expects that electronic components shortages and logistics disruptions will continue to have an impact over the coming months. As a result, and with no further deterioration of the supply chain, the company expects to end at the lower end of its 2021 guidance ranges of 3-6% comparable sales growth, an adj. EBITA margin of 11.5-12.5% and free cash flow exceeding 8% of sales.
For the full and original version of the press release click here
For the presentation click here
Conference call and audio webcast
Eric Rondolat (CEO) and Javier van Engelen (CFO) will host a conference call for analysts and institutional investors at 9:00 a.m. CET to discuss the 2021 third quarter results. A live audio webcast of the conference call will be available via the Investor Relations website.
Financial calendar 2021
January 28, 2022: Fourth quarter and full year results 2021
February 22, 2022: Annual Report 2021
Source : https://www.signify.com/global/our-company/news/press-releases/2021/20211028-signify-third-quarter-results