Lutron & Kaleidescape Bet on Home Theater Growth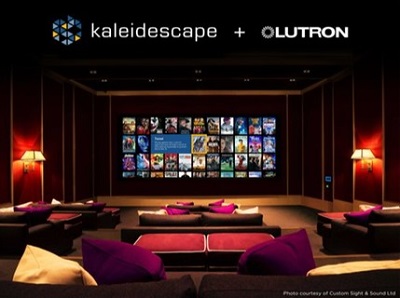 Oct 26, 2021
By Linda Longo
This partnership between a lighting and shade control company and a premium private cinema player provider elevates the home theater experience and indicates a rising trend.
Kaleidescape and Lutron Electronics have announced the direct integration of Lutron's HomeWorks lighting control system with current Kaleidescape players.
The popularity of designated home theaters has ebbed and flowed for decades as residential floorplans and consumer tastes vary. The category took a giant leap forward last year when stay-at-home orders affected most of the nation.
According to Variety magazine, the world's largest cinema chain, AMC Theatres, lost $4.6 Billion in 2020 due to the COVID-19 crisis. In fact, all of the 80+ cinema chains in the U.S. experienced massive financial losses due to the long-term closures.
Theaters' loss is home cinemas' gain as consumers stayed in and did all of their movie watching from home — and enjoyed the experience. The demand for upgrading the at-home entertainment area is continuing through 2021 and is expected to remain strong since getting movie fans back into theater seats and paying premium ticket prices has been a challenge.
Therefore, it makes good business sense for Coopersburg, Pa.-based Lutron and Mountain View, Calif.-based Kaleidescape, both of whom are leaders in their respective fields, to collaborate.
The companies are now offering direct integration of Lutron's flagship HomeWorks lighting control system with current Kaleidescape players. Here's how it works: utilizing Lutron's state-of-the-art LEAP integration protocol for Homeworks QSX processors, the direct integration of Kaleidescape with HomeWorks will provide seamless control of Lutron's Sivoia QS shades, and Ketra intelligent lighting solutions. This comprehensive system essentially gives customers the most realistic in-home cinema experience — without the high cost of popcorn or intrusion of strangers.
Kaleidescape players present movies at full reference, with lossless quality audio and unique metadata with cues that enable precise control of lights and shades controlled by a HomeWorks system. By simply pressing play, Kaleidescape sends information about the movie so the control system can adjust screen masking, lens shift in the projector, and lighting triggers that close the shades and slowly dim the lights. When the credits roll, the lights come on slowly – just like in a movie theater – to ease you back into reality. And unlike a real movie theater, Kaleidescape has intermission cues to transition viewers in and out of the story when a break is needed.
"For 60 years, Lutron has been focused on delivering great customer experiences. Now, Lutron and Kaleidescape's joint customers can relax, sit back, hit play, and watch their entertainment space transform into a cinema as the lighting and shading effortlessly transitions to the best movie watching environment," explains Sam Chambers, Senior Director/Residential Systems at Lutron. "By directly integrating HomeWorks and Kaleidescape, customers feel as if they have a commercial cinematic experience in their own home."
Kaleidescape is reportedly the only company that offers metadata, enabling seamless automation capabilities to control systems and designed from the ground up for the custom integration channel. Unlike the streaming video experience, Kaleidescape and Lutron systems increase the beauty, elegance, and immersion of watching movies by delivering a commercial cinema feeling to the home or yacht.
"Kaleidescape and Lutron are working together to deliver an unsurpassed cinema experience for private theaters," notes Tayloe Stansbury, CEO, Kaleidescape. "When you combine Lutron's industry-leading lighting control capabilities with Kaleidescape's ability to deliver the best image and sound on screen, the addition of shading and lighting control truly brings the experience to another level of luxury and enjoyment."
The take-away
According to a market research study compiled by Technavio and published last month, the home theater market has the potential to grow by $3.23 billion during 2021-2025, with the market's growth expected to accelerate at a CAGR of 4.77 percent.
The home theater market has incredible potential for electrical contractors to partner with their local systems integrators for a mutually beneficial outcome. And its an opportunity for resi-oriented distributors who work with contractors who focus on custom homes or the residential remodeling market. The continued growth of smart homes and smart home products is another indicator that this category is poised to expand for at least the next several years.
For distributors who serve the residential market, either directly via showrooms, through contractors who focus on residential remodeling or those working with higher-end builders, this could represent an opportunity to differentiate yourself and bring a different offering to your customers. It's not for everyone as this requires interaction with the homeowner but with movie watching at home increasing via streaming services, more homes will want home theaters.
Source: https://electricaltrends.com