Nocturnal Habitat Protection Award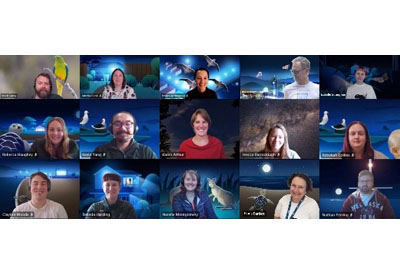 Oct 22, 2021
The Nocturnal Habitat Protection Award recognizes individuals or entities whose decisive actions have been instrumental to the conservation of substantial nocturnal habitat for terrestrial and/or aquatic wildlife species on public or private land and water resources.
Department of Agriculture, Water, and Environment (Mark Carey, Amelia Cook, Jessica Armstrong, Geoff Richardson, Isabelle Straughair, Rebecca Haughey, Kevin Yang, Karen Arthur, Jessica Barradough, Rebekah Collins, Clayton Woods, Belinda Harding, Narelle Montgomery, Fiona Bartlett, Natan Perring)
Australia
The Migratory Species Section of the Department of Agriculture, Water, and Environment sponsored and managed the development of the National Light Pollution Guidelines for Wildlife in Australia. This is the first time globally any national regulator has published guidance (in English) on light pollution with respect to wildlife. The guidelines were released by the Commonwealth Government of Australia in January 2020, and were and were endorsed by the United Nations 13th Conference of the Parties to the Convention on the Conservation of Migratory Species (CMS) of Wild Animals (COP13) in Gandhinagar, India in late February 2020. Then, in April 2020, the CMS passed a resolution to adopt the document as "CMS" Light Pollution Guidelines, and then took a further step by commissioning a report on the impact of light pollution on taxa not addressed by the Australian Guidelines. These Guidelines now have global reach and accessibility via the 130 signatory countries to the CMS.
In the last 18 months, the State and Federal regulators in Australia have started to promote the guidelines to proponents and now require all projects referred for environmental impact assessment and approval to show how the project is consistent with the guidelines. These guidelines are increasingly driving awareness for projects globally. The value of the guidelines is that they are not prescriptive. Instead, they take an outcome-based approach to impact assessment which provides flexibility for different species, lighting design, technical innovations, and novel solutions to mitigating and management of artificial light at night. A major objective of the guidelines was to provide a road map for conducting an environmental impact assessment for people who had not ever done one. Finally, the overarching goal was to give a voice and place at the table, to the wildlife who cannot speak for themselves so that they and the habitats critical to their survival are acknowledged and protected during development activities.