CITYLights Toronto 2018: Design and Install a Lighting Work for Nuit Blanche 2018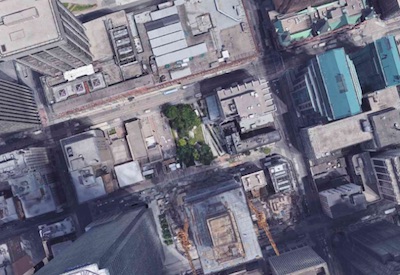 July 21, 2018
CITYLights Toronto 2018 invites Toronto students and young professionals in the fields of lighting design, architecture and interior design to create a site-specific installation that will illuminate features, public art, and buildings in Graffiti Alley. Registration deadline: August 3.
The event is an independent Nuit Blanche project managed by CITYLights Toronto, a group of design industry leaders with expertise in promoting innovative sustainable urban lighting through education and public awareness. Participants will divide into two teams taking part in a hands-on workshop moving through the design process from concept to implementation. Equipment will feature state-of-the-art, sustainable lighting that adds drama to urban spaces. Installations will be temporary, lasting for one night (from dusk to dawn).
Teams will be led by David Rokeby, a well-established installation artist based in Toronto. He has been creating and exhibiting his artworks since 1982. For the first part of his career he focused on interactive pieces that directly engage the human body, or that involve artificial perception systems. In the last decade, his practice has expanded to include video, kinetic and static sculpture. His work has been performed/exhibited in shows across Canada, the United States, Europe and Asia.
Nuit Blanche Toronto is Toronto's annual all-night celebration of contemporary art, produced by the City of Toronto in collaboration with Toronto's arts community. Since 2006, the event has featured more than 1,490 official art installations created by nearly 5,200 artists and has generated more than $355 million in economic impact for Toronto. Nuit Blanche Toronto takes place from sunset to sunrise on the night of September 29.
Find out more: http://files.constantcontact.com/8c1f7283201/b03dc52f-9f83-4f33-8b3a-884d0a252233.pdf.