Laval Selects Dimonoff for Its Intelligent Streetlight Conversion Project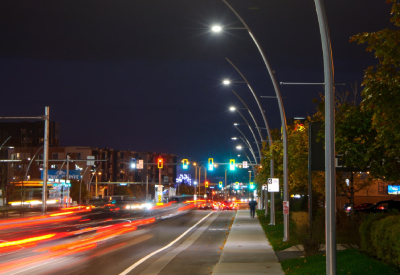 March 19, 2021
The City of Laval has given the green light for the implementation of its project to convert 37,000 light fixtures to light-emitting diode (LED) luminaries with smart controls. Dimonoff and Pierre Brossard Ltée (a subsidiary of Black & McDonald) have been mandated to undertake this project, which will be carried out over a period of 3 years with a total investment of $34.5 million.
The first units are expected to be installed in early March 2021. The conversion of all street lights as well as the deployment of intelligent controls is expected to take 12 to 18 months spread over the remainder of 2021 and the first half of 2022. A second phase, consisting of decorative and architectural fixtures, will follow thereafter.
This conversion is expected to result in annual savings in excess of $2.75 million, mainly in energy consumption and maintenance costs. This technology is also in line with the "Urban by Nature" strategic vision, which aims to make the City of Laval a model city in sustainable urban redevelopment. With an estimated annual reduction in GHG emissions of 10,607 tCO2 (calculated according to the EPA standards) and a life span of 25 years, this type of street lighting is part of a green shift. Furthermore, optimizing maintenance operations on the city power grid leads to a significant reduction in maintenance vehicle movements. This represents an additional gain in terms of CO2 reduction.
"This project comes at a good time: a significant portion of the lighting network has reached the end of its life cycle and must be replaced. This state-of-the-art technology with intelligent control system has proven its worth, and Laval is following in the footsteps of other forward-thinking Canadian cities that have adopted it, with 30% of luminaries converted to LEDs across the country to date" said Marc Demers, Mayor of Laval.
The city has also expressed interest in using this intelligent streetlight infrastructure to link other future systems and sensors that will continue to improve the efficiency and quality of service it provides to its citizens. Thus, in addition to meeting the strict requirements of the project, according to Bernard Têtu, CEO of Dimonoff, "the Dimonoff | SCMS intelligent urban asset management platform would also allow the City of Laval to integrate several additional mobility and security devices and systems into a single state-of-the-art interface and a highly scalable data management system".
The City of Laval project in numbers:
Investments: $34.5M
Project duration: 3 years (2021 – 2024)
Annual savings: up to $2.75M (energy and maintenance)
Annual electricity savings: 15 million kWh
Estimated annual GHG emission reduction: 10,607 tCO2
Return on investment over 5 years
37,000 Intelligent Lighting Controllers (SLC)
88 gateways (with a mix of cellular and urban computer networks)
1 intelligent central control system: SCMS – Smart City Management System (SAAS version)
Interfaces with several third-party systems for existing asset management (Enterprise Asset Management [EAM] from Oracle E-Business Suite), traffic management (Intelight MAXVIEW 2.0), and GIS (ArcGIS Esri)