Owen VandeVelde Elected to Second Term on the IAC
Feb 8, 2021
EiKO's Owen VandeVelde has been elected to a second term to represent small lighting manufacturers for the DesignLights Consortium's Industry Advisory Committee (IAC).
The IAC will support the mission and strategic direction of the DLC to drive efficient lighting through education, collaboration, and expertise in 2021 and 2022.
"The DLC was fortunate to receive IAC nominations from an array of expert professionals across the lighting industry during our fall nomination process. We thank members of the outgoing IAC for their work over the past two years and look forward to the contributions of this newly-constituted group as the DLC explores and captures new opportunities in lighting efficacy, quality of light, and connected lighting solutions in the months and years ahead," said Christina Halfpenny, DLC Executive Director and CEO.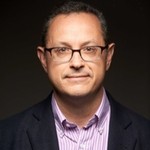 The IAC's activities include consideration of DLC business updates, programs to promote lighting quality, utility program best practices for lighting energy efficiency, and ongoing opportunities, challenges, and potential risks related to advancement of energy-saving lighting technologies. Its members include representatives of various sectors of the lighting industry, including designees from the top six solid-state lighting (SSL) manufacturers.