Signify Reports Third Quarter Sales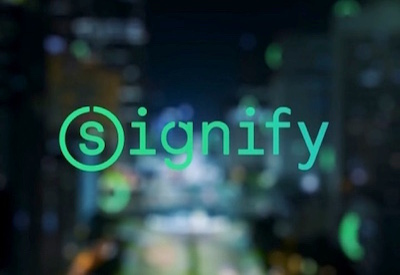 Nov 10, 2020
Signify has released the company's 2020 third quarter results.
"We are very proud of our carbon neutrality achievement in Q3 and of the launch of our new sustainability program aimed at doubling our positive impact on the environment and society in 2025. Amidst difficult market dynamics caused by the COVID-19 pandemic, this financial quarter we are reporting yet another resilient performance underpinned by our consumer and connected lighting. Our gross margin improvement, through rigorous price management, translated into a higher operational margin. Our discipline in working capital management allowed us to generate a solid free cash flow for the quarter, while as previously announced, we reduced our debt by EUR 350 million," said CEO Eric Rondolat.
"Given the acceleration of the pandemic in many regions, we remain cautious about market developments, but confident in our ability to further adapt, which we have demonstrated since the beginning of the year. Our teams remain focused on making continued good progress on the integration of Cooper Lighting and Klite, while relentlessly driving our growth platforms to develop new business opportunities in line with our strategy."
Outlook
Given recent developments of the pandemic, Signify does not provide financial guidance for full year 2020. Signify remains confident in the underlying resilience of its businesses and operating model, and that its liquidity needs are well covered by the financial framework it has in place. During the virtual Capital Markets Day 2020, which is scheduled on December 9, Signify will provide more details on its expectations for the medium-term.
-Signify's installed base of connected light points increased from 64 million in Q2 20 to 71 million in Q3 20
-Sales of EUR 1,728 million, nominal sales growth of 12.1% and CSG of -8.3%
-LED-based sales represented 82% of total sales (Q3 19: 81%)
-Adj. indirect costs down EUR 22 million, or -4.9% excl. FX effects and changes in scope2
-Adj. EBITA margin increased by 50 bps to 11.5%, including currency impact of -30 bps
-Adj. EBITA margin of the growing profit engines increased by 130 bps to 12.3%
-Net income of EUR 90 million (Q3 19: EUR 74 million)
-Free cash flow increased to EUR 214 million (Q3 19: EUR 45 million)
-Cooper Lighting integration and synergies ahead of plan
-Achieved carbon neutrality and set course to double positive impact on environment and society in 2025
-Debt prepayment of EUR 350 million to reduce overall gross debt position; net leverage at 2.2x
Go HERE for the full report