ETC Celebrates Augment3d Award Win at PLASA 2019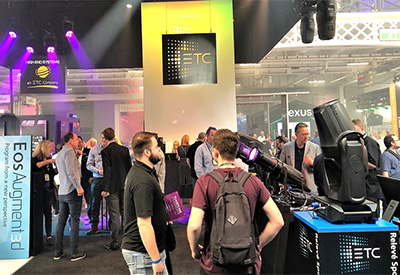 Oct 3, 2019
ETC and High End Systems celebrated a successful tradeshow following three days of busy stands, Tech Talks seminars and a win for ETC's Augment3d at the PLASA Awards for Innovation.
The brand-new 3D programming environment which is part of the upcoming Eos v3.0 software release triumphed at PLASA in a ceremony that celebrates the year's most pioneering product designs. Judges commented: "This will change the way lighting design and operation works by increasing speed in the lighting workflow and making the process from design to conception easier to manage."
This was illustrated during the tradeshow at ETC's Augment3d challenge event where participants were invited to create five focus palettes on an Eos family console in the quickest time possible using either encoders, a mouse click (in the 3D model) or the Augment3d Focus Wand. The quickest time recorded was 37 seconds on the Focus Wand, notably faster than the best time on the encoders which was 3 minutes, 32 seconds. "By combining the power of previsualisation, live interaction and augmented reality, Eos console users can now work quicker and more efficiently before and during production periods," comments ETC Market Manager, Rory Fraser-Mackenzie.
Alongside Augment3d were several new innovations including the latest moving lights by High End Systems. The newly launched SolaWash 1000 and TurboRay fixtures were on the stand for visitors to see. SolaWash 1000 wowed crowds with its full-curtain four-blade framing system and dual frosts that give designers the ultimate versatility; while TurboRay caught visitor's eyes with its classic face look backed up with modern technology to produce spectacular effects unseen in any other fixture.
Visitors to the stand were also able to explore the ArcSystem, BluesSystem and CueSystem product lines, recently acquired by ETC and demonstrated by product experts. The high quality architectural lighting solutions are already installed in leading venues worldwide and include new features such as additional color temperatures and RDM control.
Product specialists from ETC also hosted Tech Talks seminars at PLASA this year which hundreds of visitors attended. The topics included 'Maximising your LED Color System', 'Power Up – managing your LED power infrastructure', 'The Illusion of Color' and 'Effects and Affects' on both Eos and Hog.