Lumenpulse Group Acquires Sternberg Lighting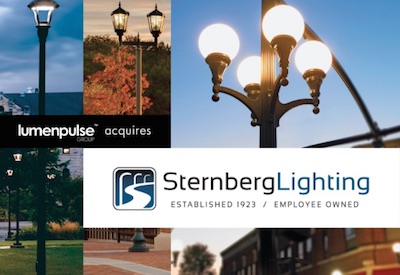 October 17, 2018
Lumenpulse Group has acquired 80% of the equity interest of Sternberg Lighting, an Illinois-based employee-owned manufacturer of architectural outdoor and area LED lighting solutions. The strong, employee ownership of the company will continue, with 20% of the equity staying with employees.
"We are delighted to welcome Sternberg as part of the Lumenpulse Group," says Francois-Xavier Souvay, CEO of the Lumenpulse Group. "The transaction is in line with Lumenpulse Group's growth strategy. As many U.S. markets begin to revitalise their urban environments to the latest LED technologies, Sternberg is an important acquisition for street, area and municipal lighting."
Founded in 1923, Sternberg Lighting leads the industry by combining the vintage look of decorative styled luminaires with today's demands for sustainability and energy conservation. Sternberg Lighting will remain an independent business entity, and will continue its legacy with the benefits of new technology and the supply chain partnership provided by the acquisition.
The company has been most active in the U.S. market, illuminating more than 450,000 installations throughout the United States and Canada with many municipal landmark projects and university campuses such as MIT and Notre-Dame, to name a few.
Joe Waldau, President and CEO of Sternberg Lighting, will remain in his current position while Mark Dean, formerly Vice-President of Marketing and Business Development, will become Chief Operating Officer, overseeing all day-to-day activities of the company.