How Standard Earned Its EFC 2018 Corporate Engagement Award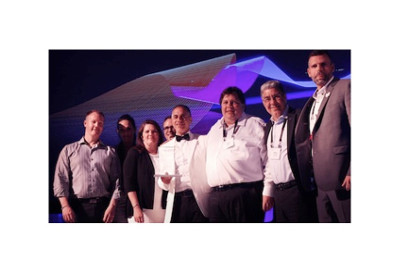 August 3, 2018
Electro-Federation Canada (EFC) recently recognized Standard for its outstanding contributions to Electro-Federation Canada (EFC) and the overall global industry.
The Corporate Engagement Award recognizes member firms that power a changing world through product and service innovation, and play an integral role in advancing the association's initiatives. Recipients of are selected by EFC's Board of Directors, based on set criteria. (Shown in photo, L-R: Steven Fauteux, Kim Quelch, Daniela Di Pietro, Zane Yakiwchuk, David Nathaniel, Kelly Hanson, Pierre Vincent and Jason Prevost, accepting the 2018 Corporate Engagement Award at EFC's annual conference in Vancouver.)
To provide insight into what it takes to earn the award, here's a sampling of Standard's accomplishments.
active participation of Standard representatives on EFC boards and committees:
CEO David Nathaniel, has served 2 terms on the Board of Directors, and is Chair of the National Advisory Council. He will also join EFC's Executive Board
Executive VP Jason Prevost spearheaded the launch of the Young Professionals Network (YPN) and was acting Chair for 2016 and 2017.
In 2017 Kim Quelch, Director of Product Marketing, served as YPN Chair for the Quebec Region and is now YPN's National Chair. Almost 30 Standard employees YPN members.
Stephanie Santini, Director of Digital Marketing & Communications, serves on several committees such as the EFC's Branding Committee, the Marketing & Communications Committee, as well as the Habitat for Humanity's Power to Build Committee.
Marjorie Dionne-Sammut, Market Channel Manager and Regulatory Affairs Manager, is a member of the Lighting Section for governmental regulations with EFC; she also participates in discussions on industry matters.
Jessica Romani, Stéphanie Bisaillon and Marjorie Servières are members of the Quebec chapter of EFC's Human Resources Committee. Marie-Josée Garneau is also member of the National HR Committee, and Marjorie Servières also works on the YPN Committee for Quebec.
Standard also ensures member participation in and sponsorship of EFC events (holiday parties, conferences, etc.), and hosts events that promote EFC causes, such as the Dine and donate BBQ and Dale Carnegie Training sessions through YPN.
Standard has participated in the EFC Scholarship Program for the past 8 years with the Standard Recognition of Excellence Award.
Find out more about EFC's award program: www.electrofed.com/newsroom/awards/.