Lightfair International 2019 Call for Speakers: Global Invitation to Experts in Diverse Disciplines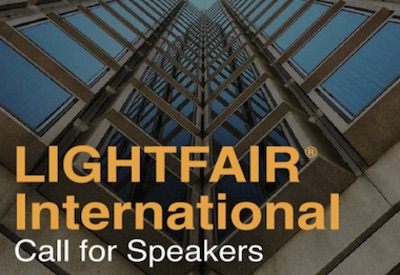 July 21, 2018
The Lightfair International Conference, which offers hundreds of hours of education in a highly diverse curriculum, begins its run to opening day 2019 with a call for speakers. This global invitation calls for top professionals from a broad spectrum of industries to submit to speak at the world's largest annual architectural and commercial lighting trade show and conference in Philadelphia May 19-23, 2019 (pre-conference Lightfair Institute: May 19-20; trade show and conference: May 21 – 23).
Lightfair is a collaborative platform where experts from various industries demonstrate their unique perspective to instill best practices and inspire industry professionals. They come from industries such as lighting, architecture, design, technology, engineering, facility management, government, healthcare, hospitality, alternative energy, horticultural lighting, security, transportation and more — all are encouraged to submit proposals for consideration at the LFI 2019 Conference.
As the world's largest annual lighting-related conference, LIGHTFAIR provides an opportunity to directly engage with invested individuals representing multiple disciplines and varying experience levels.
Find out more: www.lightfair.com/callforspeakers.