Vancouver's Lumière Festival Returns in December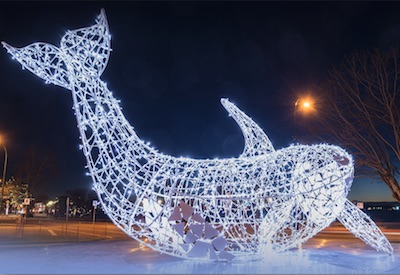 November 20, 2017
Vancouver, BC's West End will come alive with a series of light installations, performances and community building initiatives for a unique winter celebration. Launching across multiple venues throughout the neighbourhood, Lumière lights up on December 3.
Shown in photo from the 2015 and 2016 festival is "Luna," contributed by MK Illumination. The orca whale's white powder-coated frame is 7m long by 2.5m high and contains over 6000 LED white bulbs. Its energy usage is only 177 watts and 36v. The feature will be installed in Morton Park. Also coming to the park, the Art Tree, a 17 foot by 15 foot wide artificial tree that will be lit by RGB colour alternating string lights.
At Alexandra Park, organizers are proposing a lighting installation called Luminous Birds. The installation will consist of a flock of origami-style birds suspended in the air. As night falls, synchronized lighting sequences create the effect of birds flying overhead. A soundscape, which will only be audible directly underneath the installation, will also accompany the activation.
Find out more: http://lumiereyvr.com.