Lumiere Festival Call for Artists 2017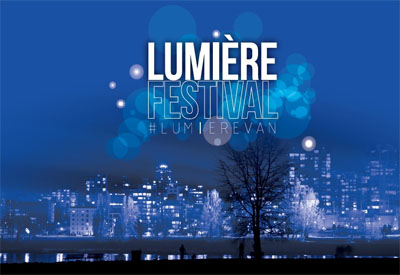 Aug 3, 2017
The selected artist(s) will be responsible for leading the design process which includes, but is not limited to, leading the design process, laying out template(s), ensuring that templates are correct, organizing volunteers (if applicable), enlisting any assistant artists, ensuring the design meets the guidelines set by certified electrical engineer at the City of Vancouver, and completing the work within 10 weeks in the fall of 2017.
The art will be displayed primarily in the public realm in the West End of Vancouver. Two main spaces utilized for Lumiere in the past include English Bay/Morton Park and Jim Deva Plaza. The plaza will include a 20' x 60' tent in 2017 which will be erected for 2+ weeks starting November 30. Other spaces of note include Celebrities Nightclub basement, Alexandra Park, West End Community Centre, and the Davie Village Community Garden.
Light installations in interiorized spaces within shipping containers are welcome. All art concepts will in some way have an illumination component and if selected may require certification from a qualified electrical contractor and approved by City of Vancouver engineering before being displayed in the public realm. Guidance will be provided from the Lumiere team, Curator and city staff.
To apply see:
http://westendbia.com/call-for-artists/call-for-artists-2017/