Viscor – Stay Ahead of the Curve in Your Next Design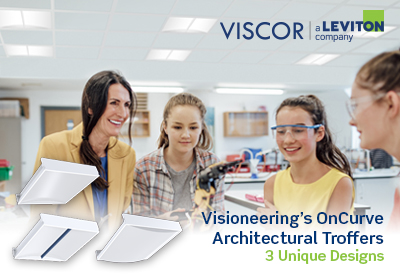 Stay Ahead of the Curve in Your Next Design
Visioneering's new OnCurve fully luminous troffers feature soft curved lenses that deliver dynamic styling and low glare illumination. The concave and convex contemporary lens design options offer configurability and versatility to any T-Bar and hard ceiling space. Complement the decor by adding a splash of color to the center spine of the Concave. OnCuvre architectural luminaires are not only appealing but deliver best-in-class performance (up to 134 lm/W).
OnCurve's clean lines will enhance the architectural appeal of office areas, retail stores, classrooms, hospitals, nursing homes, hospitality, and new construction spaces. The concave and convex lens options can be utilized individually to create a clean and subtle look or combined to deliver a truly architectural design.
The OnCurve family of architectural recessed troffers consists of 3 unique designs to enhance any space. The Concave lens provides added glare control while the center spine option adds a unique architectural appeal and point of interest. The Convex lens introduces an even glow and subtle curve into a, otherwise, flat ceiling surface. Center spine configurations are available with custom colors to compliment your existing palette or just to add a little personality to your architectural space.
Next time you require the right lighting solution for your specific application, Think Visioneering.
Learn more at Viscor.com/OnCurve
{youtube}CFk1xYSUsj0{/youtube}