Simplify your Process with the Speedy OpticSwap for Area Lighting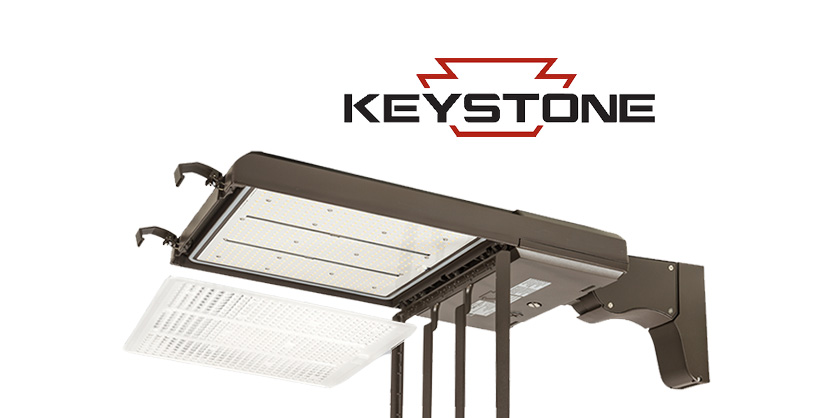 February 17, 2023
Easily Switchable Lenses Improve Installation.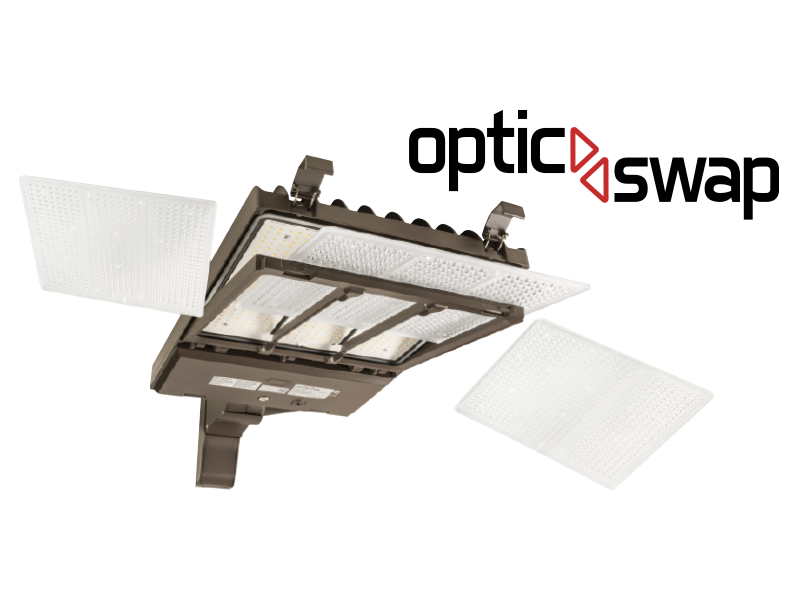 Keystone is about to change the way the lighting industry thinks about area lights.
The reason? A revolutionary advance called OpticSwap.
At the most basic level, OpticSwap makes area light optics interchangeable simply by unfastening and refastening a clasp. No tools required, while still maintaining an IP65 rating.
More broadly, combined with Keystone's unique kitting approach, it changes the way the lighting industry handles area light fixtures in general.
"Ordering area lights for sites such as parking lots has traditionally been a complicated process, requiring a great deal of advance planning," said Josh Brown, Keystone EVP, Distributor Sales and Marketing. "OpticSwap changes all that by making area lights an easily stockable product. Distributors can keep them on the shelf, and contractors don't need to place custom orders far in advance.
"OpticSwap paves the way for an entirely new approach to area lights,"

Josh Brown, Keystone EVP, Distributor Sales and Marketing
The current approach makes it difficult for contractors, distributors, and installers alike to get it right the first time. Contractors need to walk a site, take detailed notes on fixture locations, assess the optics required, and make a plan or reach out to a specialist who will create one. Each project's requirements are so specific it's unlikely for a distributor to have a wide variety of area lights and optics in stock, so every order is a custom order. At the installation level, finding the optics are incorrect often results in returns and reordering.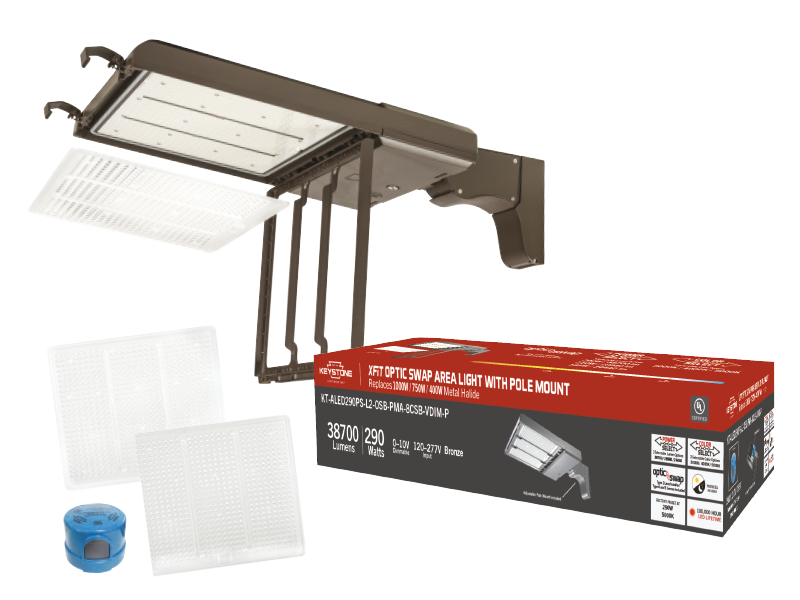 With OpticSwap, installers can simply change out the lens in the field.
XFit Area Light stocking specials are an all-in-the-box kitted option that includes fixtures equipped with field-adjustable Power and Color Select technology, photocell, pre-installed mount, three lenses—Type III, IV, and V optics—a 12V AUX tap for Keystone's SmartPort sensor, and ample surge protection.
With everything—fixture, photocell, mount, and multiple optics—in the box, distributors can put them on the shelf; contractors can buy them and go. And if a lens needs to be quickly swapped out, an installer can do the job in seconds.
In fact, said Brown, installation is incredibly simple. "There are no screws, the lens can be changed in seconds, and with our Power and Color Select technology, changing wattage and color temperature is a matter of flicking a switch."
Keystone XFit Area Lights are already known for their dependability and ease of use, from the switchable Power and Color Select technology to a driver compartment with a Keystone LED driver that can be easily accessed via an integral latch design. OpticSwap will also now be standard on all Keystone area lights, including dedicated options.
It's a change whose time has come.
"OpticSwap will simplify the whole area lights ecosystem," said Brown. "At Keystone, we talk about 'Light Made Easy'—making things as frictionless as possible in as many ways as we can. OpticSwap really drives that point home."
First Published Here (Link)