Eureka Introduces Tangram-Trace Architectural Luminaire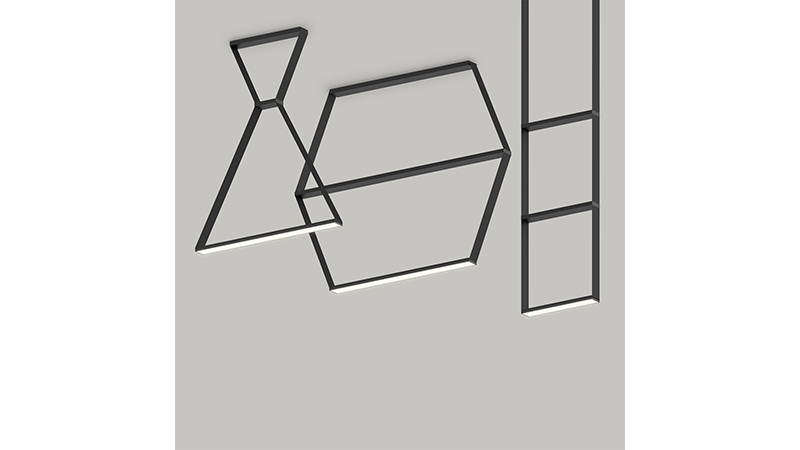 November 30, 2022
Eureka announced the release of its Tangram-Trace architectural luminaire. Using bold straps and a prismatic lens, Tangram-Trace creates a dramatic aesthetic and provides high quality, diffused linear illumination. It is intended for modern environments such as conference and executive areas, hospitality applications, or reception spaces.
Tangram-Trace luminaires are suspended using four-inch-wide straps, which empower designers to invent their own visual language. Available in 2′, 4′, and 6′ lengths, the straps can be configured into 12 pre-set shapes. Or, designers can work with the Eureka team to create custom designs. Straps are offered in five decorative colors, with the flexibility to create a monochromatic fixture or a more eclectic multi-color luminaire. Custom RAL colors are available upon request.
Spacers direct the path of the strap between the fixture and canopy. Straps may be pulled in or pushed out to create the desired shape. The canopy itself is also a design element. Straps can appear to flow discreetly out of the ceiling, or the canopy elements can become a focal point that mirrors the geometry below.
A 4" linear prismatic lens with an ultra-thin aluminum casing delivers high-quality diffused light down to the space below. Low, regular, and high output options range from 670 to 1,027 delivered lumens per foot.
All Tangram-Trace configurations can be selected with tunable white, with a range from 2700K to 5000K delivered lumens. They are also compatible with the nLight® AIR or nLight® Wired network control system. These systems manage lighting throughout indoor spaces, helping to reduce energy costs and improve occupant comfort.
Go HERE for more information