Mark Architectural Lighting Introduces Markline 101 and Markcove 102
May 25, 2021
Mark Architectural Lighting has announced the release of Markline 101 and Markcove 102 linear accent and cove luminaires.
Markline 101 and Markcove 102 feature a small eldoLED® driver specifically designed for the luminaires' 1.5-inch aperture. Available with multiple mounting options including cable-suspended, adjustable center axis, adjustable side hinge, and fixed, Markline 101 and Markcove 102 are suitable for illuminating from small spaces, along with curved vertical surfaces and circular coves.
In addition to a robust construction, Markline 101 and Markcove 102 contain a multi-diode chip that enhances the blending of light and eliminates color separation, resulting in better near-field blending compared to other linear accent and cove lighting solutions. The products also offer seven precise distribution options ranging from 9°x9° to asymmetric wall wash.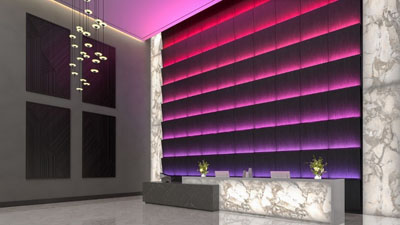 Both fixtures are available in dynamic color, tunable white and warm dimming dynamic luminous types, along with static color and static white. Lumen packages range from 250 to 1000 lumens per foot, and accessories such as a glare shield, baffles, and frosted, clear, or partially frosted lens options ensure visual comfort.
Housings for Markline 101 are available in 1 ft. and 4 ft. lengths. Markcove 102 fixtures are available in 1 ft., 1.5 ft., and 4 ft. lengths. The Markcove 102 1.5-ft. fixture can be used to create 6-inch increments.
"The assortment of design options and optical performance within a small profile make Markline 101 and Markcove 102 ideal solutions for designers looking to create simple or bold statements," said Pat Brown, business unit leader at Mark Architectural Lighting. "Complementing the existing Markline 501, Markcove 502 and Markcove 504 solutions, Markline 101 and Markcove 102 complete our linear accent and cove lighting portfolio."
More information about Markline 101 and Markcove 102 is available here: Markline 101 and Markcove 102 Family Page