New Sizes for Satco CCT Selectable Wall Packs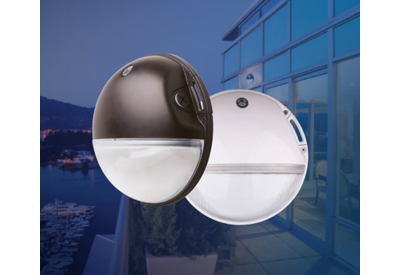 Jan 13, 2021
SATCO continues to expand its wall pack selection with options that make installation flexible and stock versatile. The latest additions in the line include the CCT Selectable Small Wall Pack and the CCT Selectable Compact Round Wall Pack.

The Small Wall Pack is perfect for light commercial uses such a smaller storage units and municipal lighting, as well as commercial Main Street buildings. As with all of the fixtures in this exterior family, these wall packs offer advanced features, are built durable and are able to withstand harsh, all-weather conditions.

CCT and wattage selectable, 0-10V dimming and DLC® listed, both the 29W and 49W options are ideal additions to any line of exterior lighting.

The CCT Selectable Small Round Wall Packs offer the very same quality, versatility and rugged as their more commercial-grade counterparts, but offer a sleek aesthetic that lends easily to the decorative environment. Perfect for outdoor multi-level housing, hospitality and more.
The small round wall packs have knock out points for pass through wiring, 0-10V dimming and long, low maintenance life. Available in black, bronze and white finish.
Click to link to the the 29W Small Wall Pack, or 40W Small Wall Pack in catalog.
Or the round wall packs in black, bronze or white.
Go HERE for more information.