Cree Expands XQ LED Family to Deliver Lower System Cost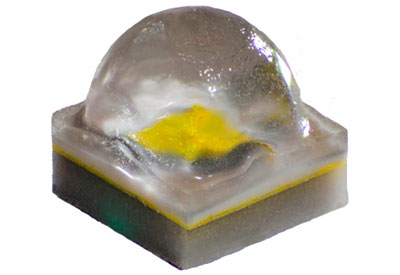 Feb 08 2016
Cree, Inc. expands its portfolio of lighting-class LEDs with the addition of the XLamp XQ-A LED to the XQ LED family. The compact, ceramic-based XQ-A enables lighting manufacturers to quickly and cost-effectively expand their product portfolios by leveraging an LED design that is similar to that of the proven and reliable XQ-E. With a broad range of colour options and optical symmetry, the XQ-A LED is the smallest LED building block available for designs that use white and colour LEDs.
"The introduction of the XQ-A LED gives us more options to increase the capability of our machine vision and industrial LED lights using the same compact XQ package that we know and like," says Matt Pinter, co-founder and Lead Design Engineer for Smart Vision Lights. "Unlike mid-power colour LEDs, the compact, ceramic-based XQ-A LED will allow us to put two, three or even four LEDs under our new silicone lens technology where we could only use one LED before. This generates more light for industrial applications without compromising lifetime."
The ceramic XQ-A LED delivers lighting-class reliability, quality and long-life performance comparable to Cree's other ceramic high-power LEDs such as the high performing XP and XT. The new LEDs leverage the proven XQ platform to provide optical symmetry, consistency across all colours and tiny 1.6mm footprint to improve colour mixing and simplify the production process for lighting manufacturers.
"At Cree, we continue to deliver innovative products that enable our customers to differentiate their products in the marketplace," says Dave Emerson, Vice President and General Manager for Cree LEDs. "The ceramic-based XQ-A LED family allows designers to offer high quality solutions that do not compromise lifetime or affordability."
The XQ-A delivers up to 89 lumens and is characterized at 85°C. It is available in white colour temperatures ranging from 2700K to 6200K and CRI options of 70, 80 and 90. The LED is also available in red, red-orange, PC amber, green, blue and royal blue.
Product samples are available now and production quantities are available with standard lead times.
Find out more: www.cree.com/xlamp/xqa.
>> Source ALL of your Canadian Electrical products in the Goldbook Directory <<