Bulbrite Dimmable LED Retrofit Lamps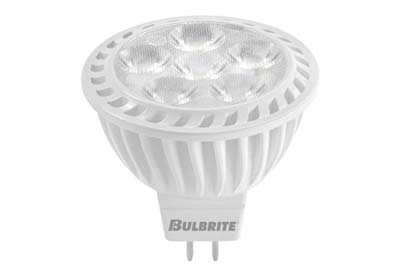 Dec 17 2015
Bulbrite introduces a new Dimmable LED MR16 retrofit lamp series, adding to its existing full line of dimmable LED retrofit lamps of PARs, Rs, A-type, globes and chandeliers.
At 7.7 watts, these energy-saving bulbs offer customers 50W output and excellent colour rendering. Dimmable LED MR16 bulbs provide shadow-free, uniform lighting making them ideal for residential and commercial track lighting applications where quality directional light is needed.
Offered in both warm white (2700K) and soft white (3000K), the Dimmable LED MR16 retrofit lamps emit a soft, warm glow and are compatible with a variety of dimmers. This series is available in Flood and Narrow flood 25 and 36 beam angles to cover various applications.
LED MR16 models have light packages ranging from 480 to 500 lumens and a high CRI rating of 90. Additionally, Bulbrite MR16s have a high R9 of 70 and R13 of 96, ensuring colours pop with no odd discolouration; rendering rich reds and enhancing natural skin colours. The bulb replaces a 50W halogen MR16, resulting in 84% energy savings.
The new Dimmable LED MR16 series is cUL certified and Energy Star qualified, making them eligible for many rebate programs.
Find out more: www.bulbrite.com/products_en_12_120_448_0_0-Dimmable.php
>> Source ALL of your Canadian Electrical products in the Goldbook Directory <<