Lunera Lighting Adds the GX23 to the Helen Lamp Family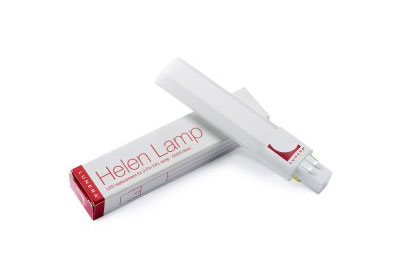 Created as a plug-and-play replacement for a 13W CFL, the Helen Lamp GX23 operates at a mere five-watts, reducing energy consumption by more than 60%. The Helen Lamp GX23 is the first Lunera product that supports both ballast driven and line voltage driven configurations as a single lamp, giving building operators the flexibility they are looking for in deploying LED technology.
A key innovation of the Helen Lamp GX23 is that the product was designed using thermally conductive plastic instead of aluminum for the heat sink. This reduces both the weight and the cost of the product, while maintaining long-term reliability.
The Helen Lamp GX23 offers universal support for magnetic ballasts, or the ballast can be bypassed and the dimmable lamp can be driven directly by 100V-305V, 50/60Hz AC line voltage. Compared to a standard two-pin, 13-watt CFL, the Helen Lamp GX23 uses five-watts of power, to generate 60% or more in lighting energy savings.
The Helen Lamp GX23 delivers up to 535 lumens of usable light and has a Colour Rendering Index (CRI) of 82. It can be used in open or fully enclosed fixtures and offers four colour temperature choices from 2700K to 4000K, to create the right ambiance for today's variety of commercial lighting requirements.
The long lifespan of the Helen Lamp GX23 is rated at 50,000 hours to L70, five times longer than comparable CFLs. The lamp is supported by a five-year warranty and is now available for purchase
Find out more: http://www.lunera.com/helenlamp_g24q/
>> Source ALL of your Canadian Electrical products in the Goldbook Directory <<