Pure Lighting's TruLine .5A, 24VDC: a Plaster-in LED System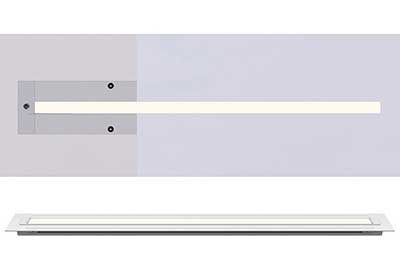 TruLine .5A creates glare-free architectural lighting accents within 5/8″ drywall. The 24VDC linear LED system features a shallow, 5/8″ deep plaster-in aluminum extrusion (thinner than drywall) that houses a single row of high CRI, commercial-grade white or colour changing LED Soft Strip. Its .5″ wide diffuser lens projects a clean line of light without LED dots. System mounts directly to studs without joist modification. TruLine channel is sold in 1-foot increments up to 40 feet (2WDC, white LEDs only), 20 feet (5WDC, white, 2K4K or RGB LEDs) or 16 feet (RGBW). TruLine .5A may be field-cut to any length. Channel ships in 8-foot lengths. Coordinate installation with electrician and drywall contractors. Fixture includes a 5-year warranty. ETL listed. Patent pending.
TruLine .5A can be installed on a single surface (like a wall or ceiling), or on multiple planes that join runs from wall to ceiling, or from one wall to an adjacent wall. Add optional components to create desired configurations including Picture Frame Mitre (LED on side of channel) and Room Wrapping (LED flat in channel) applications. Create rectangle or square configurations with TruQuad.
TruLine .5A can be used for a general illumination and architectural accent lighting for offices, hospitality, retail, residences, libraries, closets, hallways, bath/vanity.
Find out more: http://www.purelighting.com/products/truline_5a.php
>> Source ALL of your Canadian Electrical products in the Goldbook Directory <<