Welcoming Lighting Design Emulates Company Culture
October 26, 2022
Montreal-based Earth Rated is a pet accessory company that has been on a growth trajectory since its inception. The team has changed office locations several times and most recently took over the seventh floor of an office building in the Town of Mont-Royal area of Montreal, Quebec. Local interior design team Conceptum International was hired to create a non-traditional office space that would be warm and welcoming for employees and their canine companions.
Employees can access many zones, including dedicated workspaces, collaborative areas, formal meeting rooms, and lounges. Each zone has its personality, with unique color schemes, furniture, and architectural lighting. Several luminaires from Eureka Lighting add color, texture, and shape to the various environments.
Eureka's Bloom pendant provides ambient illumination in the hallways. A total of 42 fixtures, 15" in diameter and with a pale green finish, are suspended along the corridors' industrial ceilings.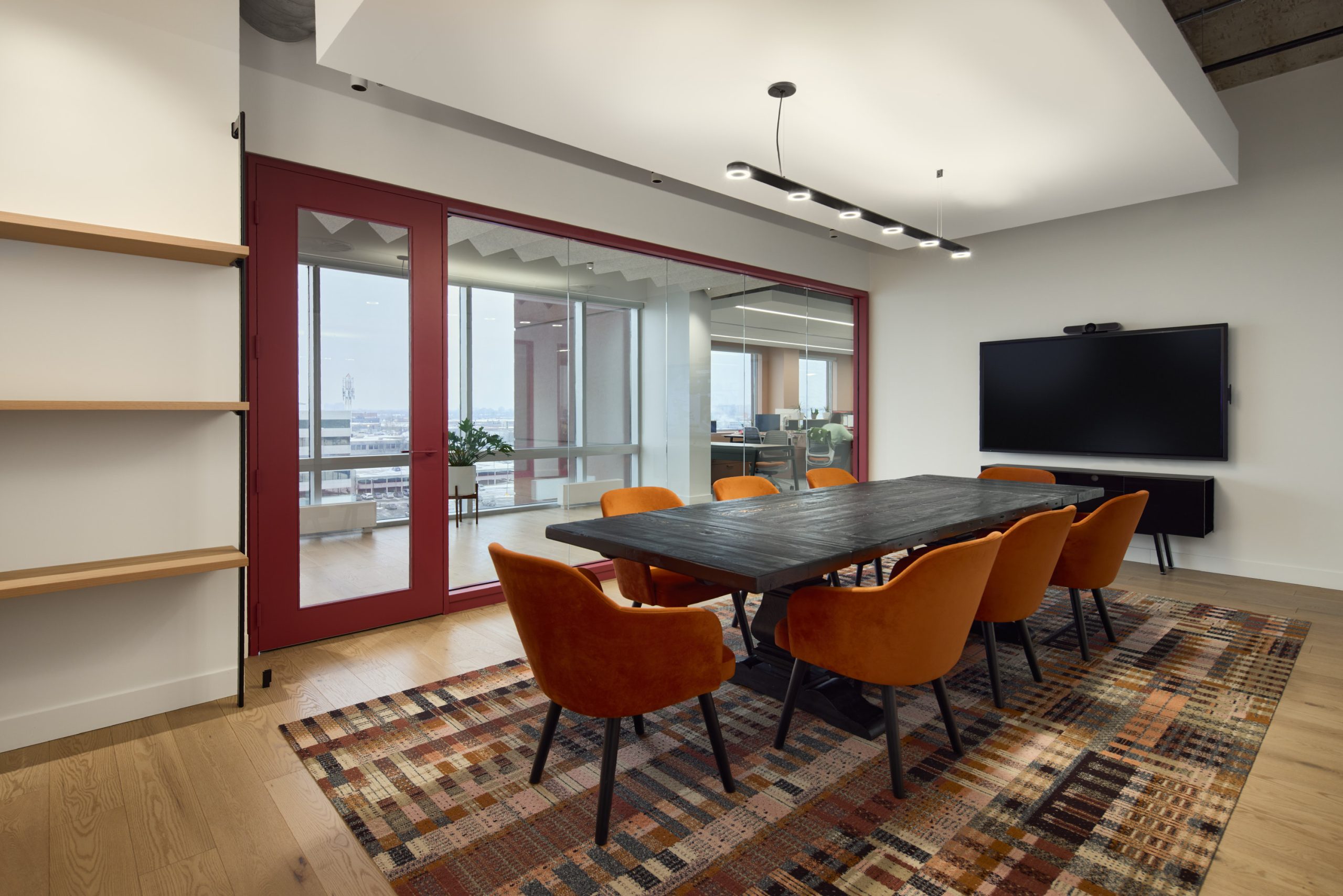 "Bloom helps to create a distinction between the closed and open offices," said Rino Ruzic, project manager at Conceptum International. "The shape and color of these fixtures contribute to the warm and inviting environment, while the diffuser ensures a visually comforting illumination."
Additional Bloom pendants, still pale green but in a smaller 10″ diameter, are hung in clusters over a collaborative space. Three are lined up above a high-top table, and four are grouped over a plush seating area. The smaller-sized pendants provide the necessary distinction from the corridor spaces while providing a generous amount of soft light for meetings or small social gatherings.
The pale green is a nod to Earth Rated's branding, enhancing the dynamic layout while adding a friendly touch, the latter characteristic among the company's core values.
Knit luminaire's shapely lines add a unique feel to the company's kitchen space. Three pendants are suspended above the counter, providing efficient and elegant light softened by a large polymer diffusion dome. The felt-like acoustic shell, in silver gray, helps reduce ambient noise in the space.
"We were drawn to the Knit pendant for this space because of its welcoming shape, acoustic capabilities, and warm finish," Ruzic said.
A formal boardroom is illuminated with Eureka's Outline pendant. The black linear fixture with six projectors provides direct lighting down to the table, and indirect illumination to the ceiling. Each halo-shaped lens offers a uniform light beam with glare control and optical efficiency to ensure the comfort of the room's occupants. Aesthetically, Ruzic said Outline brings a stylish and modern look to the room while appearing visually airy.
"From the moment you arrive at Earth Rated, you feel the company's culture," said Ruzic. "We're very proud of the collaborative, warm, and welcoming space we've created, and the lighting is an important part of that."
Project Name: Earth Rated
Location: Montreal, Quebec, Canada
Project completion: July 2021
Interior Design: Conceptum International
Eureka Agent: EDP
Distributor: Au Courant Luminaires
Photographer: Phil Bernard