Case Study: EiKO Provides Efficient Lighting Solution for Newly Built Horse Barn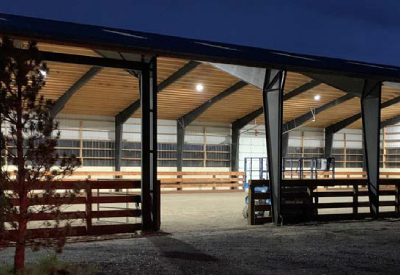 July 17, 2020
Pro Electric LLC had a customer that had just constructed a new horse barn and was looking to light it quickly. The barn was designed to be lit with ten high bay lights for maximum efficacy and efficiency. Together with EiKO's distributor partner, Platt Electric Redmond located in Redmond, Oregon, Pro Electric selected the EiKO 200W BAY-C high bay fixture, which puts out an impressive 30,000+ lumens at a 5000K color temperature. This high lumen output and the long life of the fixture – 72,000 hours – made it an ideal choice for the application.
A Safe and Secure Environment for Horses, Riders, and Care Givers
Obviously, when lighting a barn, the security and safety of the animals, riders, and care givers is paramount. EiKO's LED high bay products fill the space with light, eliminating shadows and blind spots. Their superior efficiency allows for significant energy savings, and their long lifetime means reduced maintenance costs.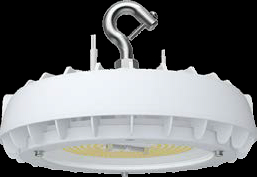 Thanks to the advantageous confluence of availability, price, and specifications, this product was purchased and installed within 24 hours, allowing the barn to be used immediately. In fact, the facility is so well lit, effectively creating a bright, clean visual aesthetic, that two additional customers have requested the product for their own projects.
Go HERE for more information on EiKO