IESBC Vision Award Winners: Recognizing BC's Best Lighting Design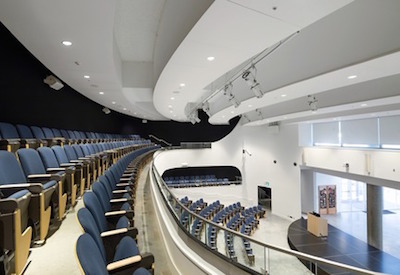 June 26, 2018
On May 31, the Illuminating Engineering Society of British Columbia honoured its 2018 Vision Awards recipients, which recognizes outstanding BC lighting designers for their projects.
"The lighting projects received this year address several challenges with the use of integrated control systems to reduce energy costs, harvest daylight, and reduce light pollution, and is just the beginning of what is to come in the lighting industry," says Robyn York, IESBC's chair member and a lighting specialist at Inform Contract. "It's exciting to see what possibilities are evolving in the lighting industry and knowing our local professionals are well versed in the advancements of technology."
This year's Award of Merit recipients include Emily Carr University of Arts and Design (WSP Lighting Studio), Metrotown Parkade Lighting Upgrade (Smith+Andersen), and Vancouver International Airport (WSP Lighting Studio). The two awards of excellence were presented to UBC Museum of Anthropology (AES Engineering) and Emily Carr University of Arts and Design (WSP Lighting Studio).
The Metrotown Parkade Lighting Upgrade project also received the BC Hydro Power Smart Lighting Redesign Award, and UBC Museum of Anthropology received IESBC's Vision Award.
Submissions were judged based on how well the lighting design met the program criteria and it is not a competition. IESBC's Vision Awards is stage one leading up to IES's national Illumination Awards, which will be presented on August 9 at the IES Conference in Boston, Massachusetts.
Learn more about these award-winning projects:
Submissions for the Vision Awards open yearly in January. IESBC also offers monthly seminars to educate trade and residential designers or anyone interested in learning more about the lighting industry. For more information on IESBC, seminars and membership, visit www.iesbc.org.

{loadposition slideShow31}
Photos
Emily Carr University of Arts and Design — recessed dimmable downlights and RGBW-DMX theatrical luminaires provides flexible lighting for the multipurpose theatre through DMX controls. Photo credit: Silent Sama
Library lighting consists of custom pendants, recessed slotlights, and gimble lights to provide quality, low glare and warm illumination. Photo credit: Silent Sama
Metrotown Parkade. Photo: Dmitri Eliasov
Vancouver international Airport A-B Connector. Photo: Ed White Photography
UBC Museum of Anthropology. Photo: Ema Peter