Lumentra: Pushing LED Innovation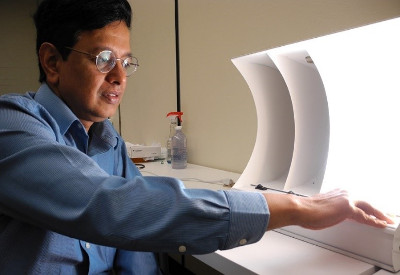 May 4, 2018
In a world that is quickly being consumed by LED lighting, ensuring that this technology continues to advance in energy efficiency and quality Is essential. When it comes to identifying issues and potential areas of adjustment many companies turn to LED experts such as those found at Lumentra, a cleantech company specializing in material solutions for the LED Industry.
Recently Lighting Design & Specification had the opportunity to speak with Dr. Venkat Venkataramanan, the founder and Chief Technology Officer at Lumentra Inc. We asked Dr. Venkataramanan about his path into the lighting Industry, the founding of Lumentra, and how Lumentra is helping lighting manufacturers advance LED technology.
Tell us a little about yourself.
I grew up in villages across southern India. Until I was 12 years old we lived in small houses with no electric light. Like everyone else in the village, everything stopped at 6:00 pm. Without electric light, cooking, homework, and business could not happen after the sun went down.
Our first 40-watt incandescent bulb changed our lives. My older brother became the first in our extended family to get a university degree. My father registered in distance education and got his BA when he was 53 years old.
I am a physicist by training but prefer to work on cross-disciplinary challenges. I completed my PhD at the Indian Institute of Science (IISc) in Balgalore, India, investigating nonlinear optics of crystalline materials. This included using high-powered lasers to convert infrared light to the visible spectrum.
Following graduate school, I briefly worked as a scientist at Atomic Energy India. I then moved to Scotland as a Leverhulme Commonwealth/USA Fellow at the University of Strathclyde, and then worked as a visiting scientist at Universidade do Minho, in Braha, Portugal. Before coming to Canada, I was a Japanese Government Ministry of Science and Technology fellow at the Institute of Physical and Chemical Research (RIKEN). I joined Photonics Research Ontario in 2001, which at the time was a division of the Ontario Centres of Excellence. In 2004, this unit merged with the University of Toronto, where I now work as the Director of Scientific Operations at the Impact Centre. I have also been an adjunct professor in the Department of Electrical Engineering and Computer Science at Ryerson University. I began working in lighting in 2005 when LEDs became commercially available for functional lighting.
For me, light is synonymous with knowledge and well-being. Unfortunately, there are still many people with no access to electric light and who do not have the opportunities it provides.
Tell us about the history of Lumentra.
Lumentra was founded out of the Impact Centre at the University of Toronto. The Impact Centre strongly believes generating knowledge is not enough to have an impact on society. Accelerating the path from knowledge to technology to product is needed for researchers to make an impact. The centre's approach is two-fold: work closely with industry to solve their technology challenges and help accelerate product development, and also help students build businesses based on their scientific achievements. The Lumentra story is a prime example of this.
As LED technology was transforming the lighting industry, Canadian lighting companies looked at our group at the University of Toronto to understand this fascinating and frightening new way of developing lighting. At the research level, my university lab was assisting new product developments. However, the university could not provide the routine testing and measurement services that these companies needed. Our industry partners were shipping their products to a few labs in the USA, but this was expensive and time-consuming. We started Lumentra at the University of Toronto's Impact Centre to fill this need for accredited, standards-based services for the industry.
Initially, it was me and a recent graduate engineer. While routine tests are vital for companies launching new products, our ambition has always been to use this service business as a way to engage with companies and develop new products for the lighting industry.
Since its founding, how has Lumentra grown? Has this growth differed in any way from the original direction you had for the company?
Our initial research at the company was on improving the colour quality of LED lights through quantum dot-based phosphors. While we had excellent results, we realized that the commercialization path for such a product is riddled with blocking patents and so we halted that work. We now work on developing low-cost, lightweight and easy to shape polymer-based heat sinks that can be used for thermal management in high density LED applications. This is a radically new approach and we have just filed a patent and created a proof-of-principle device.
We are lean on R&D staff and leverage the great talent available at the University of Toronto, Memorial University, and the University of Saskatchewan. When needed, we also work with international institutions in China, Germany, and India. These universities and institutions form our extended R&D arms, helping us to think big even as we are small.
With continued shifts in the industry and rapidly advancing technology, how does Lumentra stay ahead of new technology and ensure testing identifies issues with new technology?
This is our commitment to our customers; they look up to us to keep abreast of performance and regulatory standards. The best way that we can serve them is through participation in the standardization process. Lumentra's staff have contributed to IES, CSA, UL, and ISO standards related to lighting. So, we know what to anticipate in performance and safety standards.
A division of Lumentra is located at the University of Toronto's Impact Centre. We regularly attend lectures by academic scientists and industry R&D leaders, have access to one of the best scientific libraries in the world, and attend conferences and technical meetings.
You mentioned that you work as a senior researcher at the university and run Lumentra. How do you handle this?
No, there are no conflicts when things are kept transparent. I do not spend time running Lumentra's daily operations. During the initial days, I set up the operations and built a great talented team who now run everything. I only provide advice and direction, and help them find resources as needed. The arrangement is beneficial to both the company and the university. Lumentra acts as a glue bringing great industry partners to the university. It uses spare university facilities, paying user fees. Lumentra's service clients move on to initiate high-value collaborative research projects with the university.
Describe for us exactly what Lumentra does and how it goes about it. How do your laboratories function?
We provide NVLAP (based on ISO 17025) accredited test and measurement services for the lighting industries. This includes photometric, electrical, thermal, and environmental testing. We also provide consultancy in DLC and Energy Star qualifications.
We operate from two locations. The integrating sphere, electrical, thermal and environmental tests are done in Toronto. The Waterloo lab, which was created by acquiring Lighting Sciences Canada in 2014, operates our goniophotometer.
When customers send us product samples, we don't treat them as black boxes and reply to our customers with a pass or fail. We identify the highest risk and test it first, which helps eliminate unnecessary tests and provide savings for the customer. If needed, we work with them to get replacement parts to overcome performance issues. We take a lot of pride in our ability to be responsive and agile.
The greatest challenge is getting a family of products listed in DLC. We analyze the specification sheets and identify the worst case in every parameter, work with the customers in qualifying them, and thus list all products in the family. We once qualified about 150 variants just with one test each for distribution, CCT, electrical and ISTMT. We also manage the entire DLC submission process. As we work a lot with DLC, we have the ability to think like their qualifiers and get the right answers from the customers to get their products qualified quickly.
You mentioned that you work with more than 65% of major lighting companies in Canada. What are the challenges of working with various companies and how do you address the technologies being developed by these firms?
The most important aspect is confidentiality. We get to closely examine the engineering samples of our customers. As I mentioned, we also help them to get their products qualified quickly. So, we need to tread a fine line. We are not there to design products for our customers, but to help them identify their performance bottlenecks through testing. Our role ends there. We take customer confidentiality very seriously and will never compromise the trust.
Sometimes, one-off customers want to test their products for agricultural, marine, avionics or display standards. A solely revenue-focused company will reject these requests as they involve a lot of time and effort. You need to read a new standard, assemble test methods and validate them, spend on calibrating additional equipment, etc. But, living on a university campus, this is a part of our DNA. We are always up to a challenge. Also, we can walk to another lab, pick their brains to understand complex issues, borrow an instrument, or go to the university library and read. This is our strength and we enjoy this.
In your opinion, how essential is the advanced testing you are doing for both manufacturers and consumers in Canada?
Canadian lighting companies cannot compete at the bottom of the market, not even domestically. Our companies focus on medium to high-value products. Thus, new development is always critical and our testing lab provides the essential feedback on product design improvements. Also, energy efficiency rebates are still a great part of the market strategy in the LED lighting industry. We get their products qualified and listed for rebate programs, faster and cheaper.
What do you see as the next big shift or trend in the lighting industry?
We are in interesting times. Both convergence and divergence are taking place simultaneously. IoT converges the lighting products with other building systems or city services. Lights now include a variety of sensors, controls, connectivity, and software. This is going to usher a lot of new requirements on interoperability.
On the other side, beyond illumination, lighting is now reshaping farming (greenhouses, chicken sheds), communication (VLC, LiFi), healthcare (therapeutics, circadian alignment), information security (connected lights), and more. This means that different industries have to start dialogues and forge partnerships beyond their comfort zones.
Another impending paradigm shift is that lighting will increasingly become a service instead of a product. Given the evolving high degree of complexity — sensors, connectivity, software controls, deep interweaving with building or city services — the customers will not want to own products but will be ready to pay for services, relegating the ownership and maintenance to specialists. They want to have all the latest technologies but will get tired of undergoing rapid upgrade cycles. It is high time we started thinking beyond specifications, price, and warranty. A service-oriented industry should think of solutions, combining high product quality, ability to constantly upgrade, reusability, and maintenance.