Signify reports full-year sales of EUR 7.5 billion, operational profitability of 10.1% and a free cash flow of EUR 445 million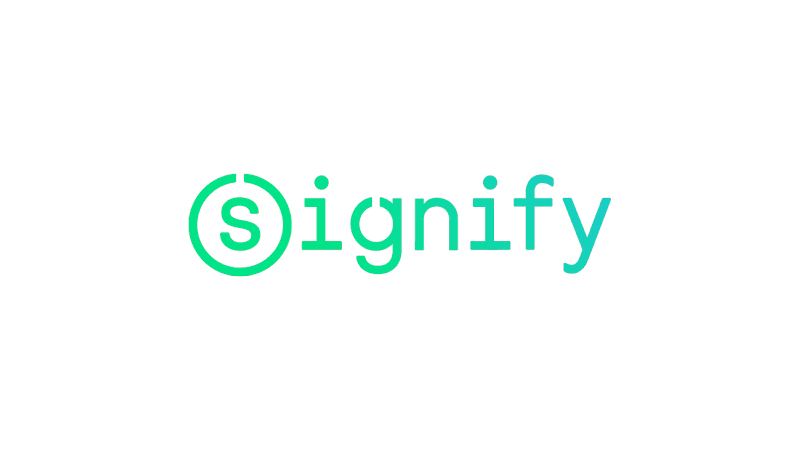 Full year 20221
Signify's installed base of connected light points increased from 96 million at YE 21 to 114 million at YE 22
Sales of EUR 7,514 million; nominal sales increase of 9.5% and CSG of 1.2%
LED-based sales represented 83% of total sales (FY 21: 83%)
Adj. EBITA margin of 10.1% (FY 21: 11.6%)
Net income of EUR 532 million (FY 21: EUR 407 million)
Free cash flow of EUR 445 million (FY 21: EUR 614 million)
Net debt/EBITDA ratio of 1.3x (YE 21: 1.4x)
Fourth quarter 20221
Sales of EUR 1,978 million; nominal sales decline of 1.5% and CSG of -8.8%
Adj. EBITA margin of 10.2% (Q4 21: 13.2%)
Net income of EUR 86 million (Q4 21: EUR 170 million)
Free cash flow of EUR 364 million (Q4 21: EUR 257 million)
Dividend
Proposal to increase its cash dividend to EUR 1.50 per share over 2022 (FY 21: EUR 1.45)
Eindhoven, the Netherlands – Signify (Euronext: LIGHT), the world leader in lighting, today announced the company's fourth quarter and full-year 2022 results.
"2022 was a year of exceptionally challenging conditions. The external environment grew increasingly more volatile throughout the year, leading us to adapt the company and our objectives accordingly. While margins and cash were impacted by inflation and supply chain disruption respectively, our connected lighting business and growth platforms grew to reach almost EUR 2 billion of sales. The relevance of our products and solutions was further heightened in 2022, as energy efficiency became even more urgent. This strengthened our competitive position as we executed on our strategic priorities. We brought new innovative and sustainable lighting solutions to our customers and continued to make progress towards doubling our impact on environment and society," said Eric Rondolat, CEO of Signify.
"Looking ahead, we expect volatility to persist in the first half of 2023 and our performance to improve in the second half. While top-line growth will be difficult to predict, our key priority in 2023 will be to improve profitability and return to a free cash flow level in line with previous years. We will intensify our focus on managing the decline and profitability of our Conventional Products business, while further driving the transition to energy efficient, connected and sustainable lighting solutions. As we move forward, we remain committed to our strategy to invest and drive innovation in the lighting industry and so create a more sustainable and connected future for all."
Brighter Lives, Better World 2025
In the fourth quarter, Signify completed the second year of its Brighter Lives, Better World 2025 sustainability program, making continued progress towards doubling its positive impact on the environment and society:
Double the pace of the Paris agreement:
The cumulative carbon reduction over the value chain is on track to reach the 2025 target. This is mainly driven by energy-efficient and connected LED lighting, which reduce emissions in the use phase.
Double Circular revenues to 32%:
Circular revenues were 29% and are on track, mainly driven by serviceable and circular luminaires.
Double Brighter lives revenues to 32%:
Brighter lives revenues of 27%, on track to reach the 2025 target. The consumer well-being and safety & security portfolios continue to be the main contributors to Brighter lives revenues.
Double the percentage of women in leadership positions to 34%:
The percentage of women in leadership positions was 28%. An improvement versus the end of last year, yet slightly off track to reach the 2025 target. This quarter, Signify focused on improving inclusive hiring practices and internal talent development. These actions help Signify realize its diversity ambitions.
In the fourth quarter, Signify received several external recognitions for its leadership in Sustainability and Climate action. Signify was included on the CDP's Climate A List, and was included in the DJSI World Index for the 6th consecutive year.
Outlook
Signify continues to aim for growth, both organic and through selected acquisitions. Given the volatility of the current macro environment, Signify does not provide a comparable sales growth guidance for 2023. The company will focus its efforts on improving its Adjusted EBITA margin and free cash flow. Signify expects for 2023:
An Adjusted EBITA margin in the range of 10.5-11.5%
Free cash flow between 6-8% of sales
Capital allocation
Signify proposes a cash dividend of EUR 1.50 per share for 2022, in line with its policy to pay an increasing annual cash dividend per share year on year. The dividend proposal will be subject to approval at the Annual General Meeting of Shareholders (AGM) to be held on May 16, 2023. Further details will be provided in the agenda for the AGM.
In 2022, Signify reduced its net debt/EBITDA ratio to 1.3x. Excluding the acquisitions of Fluence and Pierlite, Signify reached its goal of reducing its net debt/EBITDA ratio to 1.0x at the end of 2022, down from 2.7x after the acquisition of Cooper Lighting in March 2020. Signify remains committed to maintaining a robust capital structure and an investment grade credit rating.
Signify will continue to invest in organic and inorganic growth opportunities in line with its strategic priorities.
For more information