Signify Circular Venture Brings its 3D-Printing to North America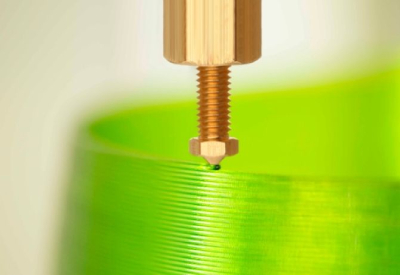 Jan 11, 2021
By Annie MacFarlane, Signify Integrated Communications
With ambitious sustainability targets to live up to, Signify is serious about the need to reduce waste while supporting customers' needs, too.
These two goals perfectly align in the case of Signify's 3D printing venture. I'm speaking to Matthew Wall, Product Marketing Lead for 3D printing in North America. Signify has already made strides in 2020 in North America and India by establishing factories that can print and produce products locally. Signify is establishing a larger footprint in this new technology and is the only major manufacturer to be producing 3D-printed lighting products on an industrial and commercial scale.
"Signify already has some experience of what's worked well in Europe. This is where we started with our go-to-market plan: we combined what's been done in Europe with our knowledge of what works in North America, and our voice of customer research," explains Matthew. "As we expand our North American portfolio we will also be introducing products and variations that meet the need of our local market."
Ready to deliver, locally
Matthew and his team are based in Burlington, Massachusetts with an established Signify factory in Littlestown Pennsylvania. With multiple print hubs around the world, Signify is manufacturing these custom luminaires locally, eliminating long-distance shipping and slashing each product's carbon footprint. At the end of the product's lifecycle, the materials can be simply shredded and recycled.
"A 3D printed luminaire has a 47% lower carbon footprint than one that's manufactured in the traditional way. We can print it in our Pennsylvania factory and ship it straight to a customer locally in record time. In a traditional manufacturing process, the components might be made in China, sent by sea freight to Mexico for assembly, then delivered by truck to a distribution center to sit in stock until it is ordered. With 3D printing, we don't need to do any of that. Everything is made to order, produced and shipped locally with minimal components and parts. This means less inventory in warehouses."
This simplified process also helps Signify deliver to customers in record time. A simple pendant can be printed in just one hour. "Let's say you're opening a restaurant in a week's time, and you haven't received your order of 50 pendants that you need to hang over the bar, at booths, above tables. This would be a disaster for a new business. With 3D printing, we can print these pendants to the exact specification the customer needs, do the small amount of assembly that's required to add cords, sockets and lightbulbs, and send them to the restaurant owner in two days. That just doesn't happen in normal production."
Customer creativity
Since travel has been limited by the global pandemic, Matthew and team have been hard at work demonstrating the benefits of 3D printing through virtual events and webinars. The reception so far has been very positive. Customers are particularly excited about the potential to co-create with Signify.
"We spoke with an interior designer who wanted individual room numbers as part of the lighting design for a hotel. We spoke to a retailer who wanted to use lighting to show the numbers of the cash registers that were open or closed. You can have a sports stadium where every lamp is lit up with the team colors, with the team logo integrated. With 3D printing, you can even design different shapes that resemble baseballs, basketballs or even soccer balls. It gets people's imagination going in exciting ways. Details like this are unique. Only Signify's 3D printing capability can offer this level of customization on this scale."
It's not just big league sports teams and national chains that can benefit. Matthew tells me that the team is talking to coffee shops, fast food restaurants, truck stops, and even a chain of chiropractic practices.
Endless options
"Now that we have 3D printing, customers can truly buy the complete range of lighting they need from just one supplier: Signify. That's very attractive for busy teams."
"A customer might order powerful, 20,000 lumen highbay lights for an industrial application. Now, we can easily make a fixture with an identical look and feel at 1,000 – 7,000 lumens for hallways and office spaces. Before, there would have to be a strong business case to create a product range like that, otherwise the customer would need to source it elsewhere. Do you want add on a shade for a highbay light, but in orange? We are the only company who can easily do that."
"Someday, you're going to be sitting at home, feeling bored, and want to change something up. It could be your dining room pendant, or your coffee table, or maybe even your clothes. You'll be able to jump online, submit a design, and it'll show up in the mail, or maybe you can drive down to a store and pick it up. This is the future. The future is 3D printing."