Alvine Engineering Corporate Headquarters Receives 2020 Lighting Control Innovation Award of Merit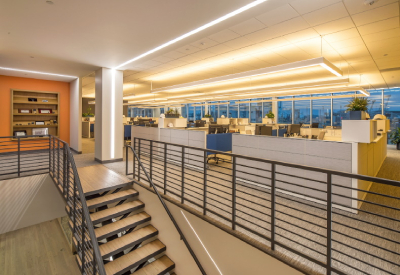 Dec 8, 2020
The Lighting Control Innovation Award was created in 2011 as part of the Illuminating Engineering Society's Illumination Awards program, which recognizes professionalism, ingenuity and originality in lighting design. LCA is proud to sponsor the Lighting Control Innovation Award, which recognizes projects that exemplify the effective use of lighting controls in nonresidential applications.
This month, they explored a circadian-friendly, energy-saving lighting controls installation at Alvine Engineering's corporate headquarters in Omaha, NE. Lighting and control design by Alvine. Photography by Tom Kessler. Lighting controls by Lutron Electronics (Quantum).
The lighting controls at 1201 Cass Commercial Office Space were designed to bolster the lighting design concept of Limitless Boundaries. The control system accomplishes this goal through deep integration with multiple systems throughout the building, providing a thoughtful balance of flexibility, functionality, intuitive operation, and budget.
The lighting and controls design supports the owner's two primary objectives: flexibility to showcase the space as a demonstration/learning lab; and aid in the project's pursuit of WELL Building Standard certification. The audiovisual system sends and receives signals that allow conference room users to recall scenes and adjust zone levels from custom touchscreens. A web interface, accessible from any computer or mobile device connected to the secure network, enables the user to set scenes and adjust zones while being in the space.
The connection to the Building Management and Control System (BMCS) encourages the WELL concept of biophilia or humans' innate desire for a connection to nature. Utilizing outdoor air temperature and wind speed data, the BMCS affects color and saturation of the RGBAW channels at the reception desk through a custom-written lookup table.
Circadian Lighting Design, another WELL feature, is reinforced by adjusting the color temperature of the open office lighting via DALI Protocol to resemble daylight. Lighting designers overcame limitations of DALI through custom time clock schedules that utilize astronomical triggers throughout the day.
Daylight sensors, photocells, and occupancy sensors are inputs to the system that affect the electric lights and motorized shades to maintain optimal light levels at the work surface while leveraging daylight for a system energy savings 36% better than code. The occupancy sensors are also utilized as inputs to the security system, programming that took over a month to resolve, reducing the number of sensors overall.
A custom lighting control sequence modulates the electric lights' color temperature from 2700K to 6500K, blending cohesively with the daylight from sunrise to sunset.