Osram Provided Blue Light LED Glasses to Le Mans Drivers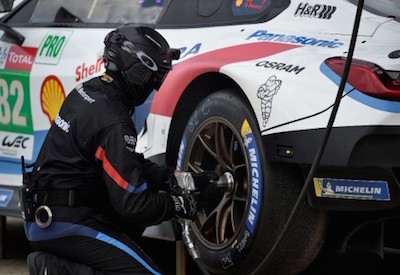 June 25, 2018
BMW M Motorsport counted on Osram's expertise when it took to the starting line of the legendary 24-hour sports car race, held June 16-17, 2018. As an official BMW M Motorsport partner, Osram has been providing human centric lighting technology for racing drivers and their teams since last year's season.
The 24 hours of Le Mans in France pushes man and machine to the most extreme limits of endurance. Even the tiniest detail can be of vital importance, such as using the right light. LED light glasses help drivers prepare for the battle ahead by stimulating the central nervous system. In addition to this, special luminaires are installed in the common rooms and the pit wall control centre for the benefit of the drivers and the engineers. The luminaires emit light with a high blue component, helping to heighten and maintain concentration levels even during the night session.
Osram celebrated the premiere of its biologically effective light in cooperation with BMW Motorsport in 2017 during the 24-hour race at the Nürburgring. Its stimulating effect brought the drivers and team safely through the night at this year's race, held May 12-13.
Osram also will illuminate the night on the Le Mans racetrack through the racing cars piloted by the BMW team MTEK: Each of the headlamps on the BMW M8 GTE, built by custom-design specialist GERG Lighthouse, use six Oslon Black Flat S LEDs from Osram in the three-chip version. The compact LEDs are particularly powerful. "This is the brightest light I've ever seen in a racecar," says Martin Tomczyk, a BMW racing driver.
Osram's Ostar Headlamp Pro, which was specifically developed for applications requiring intense brightness, was selected for use in the BMW M8 GTE's auxiliary headlights. The LED's seamless, white colour effect is also extremely compelling.