Bill 151 — Waste Free Ontario Legislation Receives 2nd Reading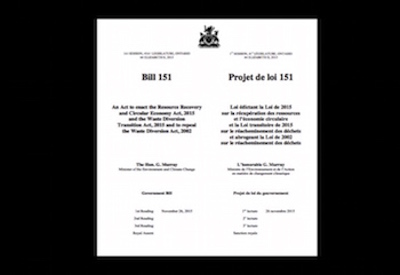 March 10, 2016
Bill 151, Waste-Free Ontario Act, intended to overhaul the province's recycling regime, has received second reading and is being debated. The purpose of the proposed legislation is to support a shift to a circular economy by
–   reducing waste and increasing resource productivity
–    enabling efficient and effective collection and recycling systems
–    increasing market value of recovered materials
The bill is being driven in part by stalled waste diversion rates, which have remained at 25% of waste generated for 10 years. While most of the waste diversion is coming from the residential sector, where 47% of household waste is diverted from landfill, the diversion rate for the rest of the economy is much lower.
Under the province's proposed strategy, the Ministry of the Environment & Climate Change would begin designating new materials for waste diversion this year. The first set of potential candidates could include fluorescent light bulbs and tubes, additional electronics, and batteries.
Adopt a circular economy model in the lighting industry may involve considering how products are made, what they are made with, and what happens to them when they reach the end of their life. For example, options for lighting manufacturers include:
–    increasing the use of materials derived from recycled sources. Purchasing recycled materials helps to make recycling more sustainable
–   creating modular or upgradeable product designs to avoid discarding an entire luminaire if a single component fails
–    avoiding combinations of materials (e.g., plastics and metals) that prevents them from being recycled
–    collecting electrical waste that arises when your customers install your products
–    re-using components when taking back used or faulty products
–    powering manufacturing facilities from renewable sources
Read the province's draft strategy for a waste free Ontario here: http://www.downloads.ene.gov.on.ca/envision/env_reg/er/documents/2015/012-5834_DraftStrategy.pdf.
Bill 151 was posted on the Environmental Registry for 90 days for public consultation and comment. The consultation period ended February 29. The ministry is expected to respond with revisions to the proposed act in spring 2016.
Read Bill 151 here: http://www.ontla.on.ca/web/bills/bills_detail.do?locale=en&BillID=3598.
If you have questions or concerns, contact Wayne Edwards at wedwards@electrofed.com or Cherith Sinasac at csinasac@electrofed.com.
For full details, including information on Product Care's Interim Lamp Program, visit http://www.electrofed.com/blog/2016/03/03/sustainability-waste-free-ontario-act/.