Osram Wins Award for its Sistine Chapel LED Lighting Solution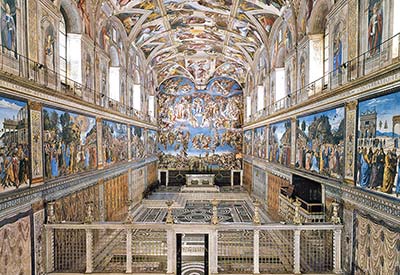 Dec 8 2015
Osram has earned the "Global SSL Showcase Top 100" award of the International SSL Alliance (ISA) for its innovative LED solution installed in the Sistine Chapel. The Global SSL Showcase Top 100 awards ceremony was held in Shenzhen, China during the ISA general meeting in November.
Osram developed an LED lighting solution for the Sistine Chapel in 2014 that set new standards in terms of energy efficiency and quality of light. The requirement for completely glare-free illumination that complies with strict conservational specifications and the immense historic importance of the chapel and its unique works of art necessitated a technically individual, lighting solution. After 500 years, the outstanding art-historical works can now be seen in the light of a total of 7,000 LEDs, and in a quality previously unattained. The installation also enables significantly higher illuminance levels — around 50 to 100 lux (10 to 15 lux with the previous installation) — to ensure that the art can be easily recognized without accelerating the aging process. The immense diversity of colours and 3D effects in Michelangelo's famous art creation are now seen by viewers for the first time in their complete radiance, and the lighting solution also consumes up to 90% less power than the previously installed version.
The ISA is an international alliance of institutions, universities and leading companies in the SSL sector that aim to improve global cooperation and driving forward the long-term development of SSL.
Learn more about the project in this LDS article: http://lighting.electricalindustry.ca/design/1009-renaissance-renovation-leds-on