RAB Design Lighting Issues EFC Scholarship Award of Excellence to Camosun College Student Nolan Meske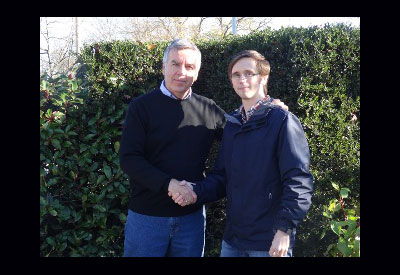 Dec 8 2015
RAB Design Lighting, a leading Canadian manufacturer of LED and other lighting products, has named Nolan Meske of Victoria, BC its 2015 Electro-Federation Canada (EFC) scholarship award recipient.
Nolan is in his fourth year at Camosun College pursuing an Advanced Diploma in Electronics and Computer Engineering Technology. In addition to his stellar academic performance, Nolan's thought provoking ideas on sustainable power generation and distribution made him a front runner for this year's award. Nolan is also an avid musician who plays the guitar and the piano.
Doug Redhead, VP-Finance of RAB Design Lighting had the opportunity to visit Nolan in BC and learn more about him. Speaking on the occasion, he said "Nolan is a bright young man, very committed and driven. He's done very well academically with his tech diploma and is gearing up to go to University of Victoria for an electrical engineering degree. We're delighted to have been introduced to Nolan through the Electro-Fed Scholarship Program and to support him with his studies."
The Rab Design Lighting scholarship is part of EFC's national scholarship program. This year the program is providing 52 scholarships with a total value of $120,500.
Engaging university and college students is critical to our industry, says Joris Myny, Chair of EFC's scholarship program and a senior vice president of Siemens Canada Limited. Myny describes the program as more than funding students. "It is an opportunity to promote our industry in every Canadian university and college and showcase the electrical industry as a viable career choice in Engineering, Sales, Marketing, Finance, Management, Operations, Information Technology and Human Resources."
"Our organization is truly grateful for all David does. We've been working on this since January; it's been fantastic watching it all come together. Christmas Lights in the City would not have been possible without the contribution from David, local businesses and the Canberra community. It is an incredible way to bring people together at Christmas… what a gift for Canberra!" says Lisa.